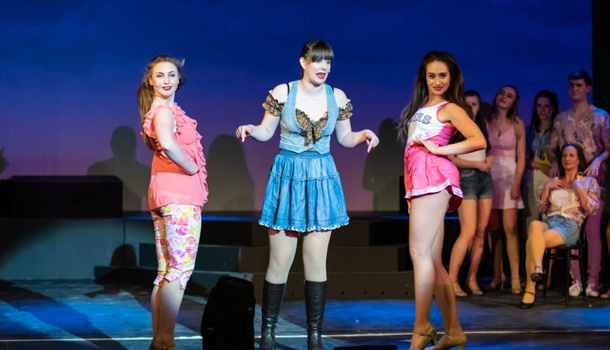 OMG you guys…. Bridport Musical Theatre Company are bringing Legally Blonde The Musical to the Electric Palace!!
Harvard's beloved blonde takes the stage by pink storm in this fun, upbeat story of self-discovery.
A fabulously fun, award-winning musical based on the adored movie, Legally Blonde The Musical, follows the transformation of Elle Woods as she tackles stereotypes and scandal in pursuit of her dreams.
Action-packed and exploding with memorable songs and dynamic dances – this musical is so much fun, it should be illegal!
Elle Woods appears to have it all. Her life is turned upside down when her boyfriend Warner dumps her so he can attend Harvard Law.
Determined to get him back, Elle ingeniously charms her way into the prestigious law school. While there, she struggles with peers, professors and her ex.
With the support of some new friends, though, Elle quickly realises her potential and sets out to prove herself to the world.
It would be criminal to miss this awesome musical … book your tickets now.
*SATURDAY MATINEE GROUP BOOKING OFFER*  Buy 4 or more tickets in one transaction and save £2 or more (50p off each ticket).  This offer will be applied automatically when you check out.
Performance dates & times:
Tuesday 27 August  •  Starts 7.30pm
Wednesday 28 August  •  Starts 7.30pm
Thursday 29 August  •  Starts 7.30pm
Friday 30 August  •  Starts 7.30pm
Saturday 31 August *MATINEE*  •  Starts 2pm
Saturday 31 August •  Starts 7.30pm
DOORS OPEN 1 hour before each performance begins.
For more information about the company visit The Bridport Musical Theatre Company facebook page.