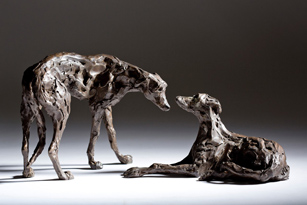 It has become known jokingly as Tate Cattistock…!
There is such a concentration of artists in Cattistock that this small Dorset village has become the best one-stop visit during Dorset Art Weeks.
Art collectors from all over the country flock to Dorset for the two weeks – 26th May to 10th June this year – in order to browse and buy art direct from the artists' own studios.
'We always get a great crop of visitors' says Vanessa Bowman, who shows in the top London galleries, but prefers to meet and chat in person to the members of the public who love her work.
The well-known botanical artist, Nicola Butler, has diversified into oil painting and producing exquisite glass beads, which will be on sale in her studio in The Square to jewellery-makers and art collectors alike. While just a few yards down Duck Street, Merrily Harpur welcomes everyone who feels like a wander around her collection of oil paintings of Dorset landscapes and linocut prints.
Moreover this year Cattistock boasts two additional artists: sculptor Jane Shaw, in West Side, who is famous for her bronzes of animals and wildlife; and the poet Annie Freud, of Sandhills, whose remarkable oil paintings and prints reflect her life and travels, and have illuminated her books.
'The village offers a marvellously arty day out' enthuse the artists: 'the studios provide a fascinating stroll around before a stop at The Fox and Hounds for lunch; there is also a shop, and  – for a refreshing cuppa after the surfeit of art – a cosy tea shop behind it. We look forward to seeing you all in May.'