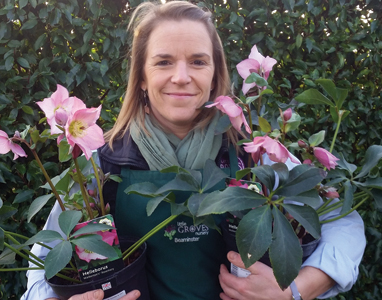 Green fingers seem to run in the family, as Becky Groves, who runs Little Groves in Beaminster can ascertain. One of three, her older brother Charlie manages Groves (aka Big Groves) in Bridport and her younger brother, Chris is a Garden Designer who works for the National Trust. And although Becky has her feet planted firmly in Dorset soil, growing up and going to school in Bridport, she hasn't always lived here.
For 10 years Becky lived in Wales. She completed a Degree in Ecology in Bangor, North Wales and then did a Masters in Countryside Management. She became Conwy's BioDiversity officer and also worked for Snowdonia National Park as an Ecological Consultant. However, the opportunity to open Little Groves arose, so following a long-planned extended holiday to the Galapagos Islands, Becky hit the ground running, with only two weeks to set up before opening the gates to the public.
Little Groves is a delight to walk round. The beds are themed into Summer, Autumn, Winter and Spring, with a dedicated scent section for the different times of year. There is also the cottage garden, shade, wildlife, rose and edible sections. Becky specialises in herbs and aromatic plants. Growing all the vegetables and herbs on site she can ensure minimal amounts of chemicals are used. Also labelled for easy picking, there are herbs for chicken, fish, salads and red meat, spicy herbs, herbs for tea and even herbs for cocktails.
In addition to Little Groves, Becky is also Nursery Manager at Big Groves, spending time each week with her team there. With management also comes spreadsheets, so when she gets home Becky is still keen to get stuck into her garden. She grows lots of vegetables and uses a large herb bed just outside the kitchen when cooking for her family; husband Lee and daughter Mia, who is nearly two.