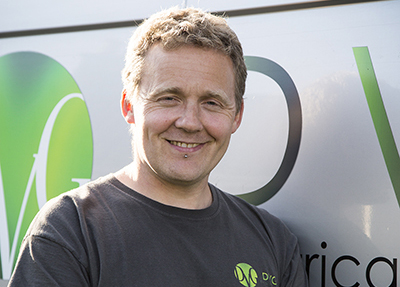 On average, five days a week Dave is a local electrician in the Marshwood Vale. He helps get his kids to school in the morning, then goes about his day doing house calls for his business DVG Services. Come the weekend though, Dave can be found on stage as bass guitarist for the sensational Kate Bush tribute band; Cloudbusting.
He moved down to Dorset in 2010 after spending 15 years making bouncy castles in the Midlands. The bubble burst for the UK inflatable business after China started manufacturing and exporting them.  Undeterred, Dave sold his company and after a few moves ended up in Uplyme with his family. His wife was learning TEFL in Sidmouth and a family friend had bought a farmhouse nearby, so it all fell into place.
Remembering his audition Dave said: "I joined Cloudbusting in 2013 by accident really. I was about to give up playing guitar and had sold all my gear, but met a bloke who was forming a band and needed a bass player.  I got myself a guitar again all ready to go, but it turns out they wern't ready for me.  I saw an advert for a 70's band and thought I'd give it a go. When I turned up everyone had expensive gear and I just had this tatty old £50 bass guitar. I think this meant I had no nerves, so just went for it and blew them away".
Now he's 'living the dream', playing on the mainstage at Sunshine Festival with the likes of ABC, UB40 and Gabrielle, gigging all over the country.  Back home, Dave enjoys riding his motorbike around Dorset's windiest lanes. Loving what he does, he can be fixing someone's bathroom fan one day and the next playing to a crowd of adoring fans. It's all in a week's work for Dave.