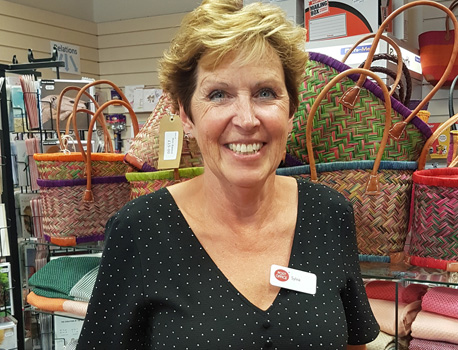 Five years ago Sylvia Ainley became Postmistress of the Bridport Post Office. She shares the license with her life and business partner Paul, who does work out front but is often found in the back office with their 'Postdog' Hubble, a gorgeous rescue dog who knows he's landed on his feet. Award winners for the last four years running at the annual Post Office Awards, Sylvia is proud of the business she runs with Paul and her fantastic workforce, who are all as professional, friendly and personable as their boss. It's a close-knit team, who work hard, together amassing on average three and a half thousand transactions per week.
Always aware of daily cut off times for banking and mail, Sylvia is constantly under pressure, never able to let things slip. 'Part and parcel of the job', she smiles, whilst breezing around the office getting everything done. Sylvia used to run training courses on leadership, time management and customer service, which shows in the manner all her staff conduct themselves, always going the extra mile for their customers. Sylvia is particularly knowledgeable about finance and so finds the Post Office a good fit, combining the front-facing customer service skills required with the financial products she is able to offer.
Brightening the shelves among the cards, stationery and parcel paper, great swathes of patterned hammams charm the Post Office customers. These are cotton stretches of material from France, used as towels and shawls, rugs and covers. Trading under the name of BBQplus these, alongside bags and quilts, are what Paul is busy selling and sending out from the back office to customers nationwide. Their online-based business is a perfect partner to the Post Office out front.
The couple met at a Salsa dancing class in London. Now, working together in Bridport they still dance most weeks. Sylvia also swims regularly, plays badminton each week and walks Hubble to work from their home in Symondsbury each day. She is also involved in the Chamber of Commerce and is a local Parish Councillor. Always with a smile on her face, whomever is lucky enough to bump into Sylvia, will no doubt part from her with a similar one on theirs.