Whilst the excellent headlining Bridport band, 'The Collaborators', rocked the B Sharp Summer Party at Bridport Arts Centre on Saturday night, one of the exciting revelations was young band 'Pizza for Dogs'.
Runners-up in the recent Bridport Sounds talent competition, 'Pizza for Dogs', fronted by singer and rhythm guitarist Guy Brazier stormed through a tight set that included tracks from their recently released EP 'Bunker, Crater, Space Alligator'.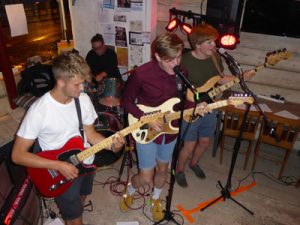 Dorset born Guy Brazier, Leon James, Christian Hardy and Sol Withers were on a GCSE geography residential in 2016 when they formed 'Pizza for Dogs', having all met four years previously at secondary school in the small town of Beaminster. The four-piece united the influences of frontman and rhythm guitarist Brazier, drummer James, lead guitarist Hardy and bassist Withers.
The band were introduced to local producer Harry Warren in December 2016 and instantly began crafting their debut EP "Bunker, Crater, Space Alligator" at The Humph Studios in Bridport, Dorset. It was during these sessions that the band began to write and perform songs such as "Sibaweja", "Anna", "Follow Me" and "Gemma (If You Let Me)", all of which appear on the EP.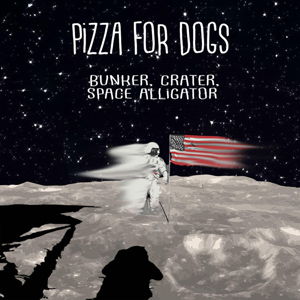 Pizza for Dogs later went on to debut their material at Chicago Rock Café, Yeovil in December 2017, supporting fellow indie four piece "The Salt" at the release party for their debut album "All I'm Sayin'"- paving the way for them to release their debut EP on 4th June 2018.
The funk, soul, ska and rock influences of The Collaborators brought the party to a close with some innovative dancing from members of the Bridport Jams who had opened the gig to enthusiastic applause from the audience.
B Sharp continues to provide a fantastic resource for young musicians, while bands like 'The Collaborators' and 'Pizza for Dogs' inspire more young people to pursue musical possibilities.
The 'Pizza for Dogs' EP is available to listen to on Spotify.