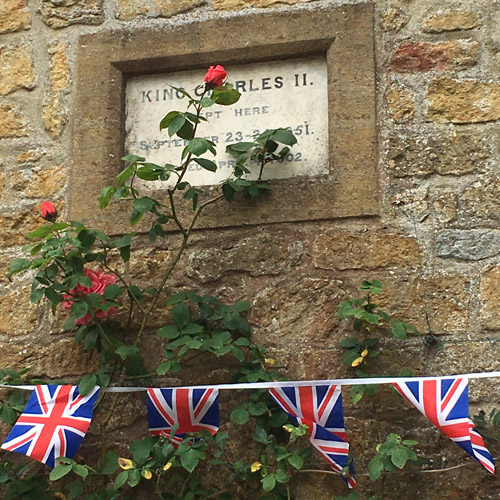 It's Oak Apple Day today, a former English public holiday commemorating the restoration of the monarchy in 1660.
It also happens to be the birthday of Charles II, the king who was invited home from exile all those years ago to take the crown.
Down here in West Dorset, we know a bit about the exiled king. He made his way through here during his escape from the Battle of Worcester in 1651.
His incredible journey – during which he famously slept in an oak tree to avoid capture by the Roundhead army at Boscobel, Shropshire – is commemorated locally by the King Charles Stone at the top of Lee Lane, Bridport, an inscription at the Cancer Research shop in East Street and a plaque on a privately-owned house in Broadwindsor, both of which were pubs in Charles's day.
He told the story about his miraculous escape, which took six thrilling weeks across 10 English counties, to the great diarist Samuel Pepys. More recently, one of his descendants, Earl Spencer, described the tale in To Catch A King.
On 1 June 1660, Samuel Pepys recorded in his diary: "Parliament had ordered the 29th of May, the King's birthday, to be forever kept as a day of thanksgiving for our redemption from tyranny and the King's return to his Government, he returning to London that day."
It was a time for dancing and parties. The people wore sprigs of oak leaves with an oak apple, a round, vaguely apple-like gall commonly found on many species of oak and caused by a wasp.
According to the Project Britain website, on 29 May, children would challenge each other to show their oak sprigs or apples, and those not wearing one would face some form of punishment, varying from one place to another.
This included "Pinch-Bum-Day" (a pinch on the bottom) and "Nettle Day" (whipping with nettles).
"The wise boy wore his oak leaves, armed himselves (sic) with a stinging nettle and carried a few dock leaves for first aid just in case." [Bibliography of Nottinghamshire Folk Plays & Related Customs]
In some areas, it was necessary to wear the oak sprig only until noon. After that, one was safe.
In the 1890s, apparently many railway engines were decorated with boughs of oak on 29 May.
Oak Apple Day is still celebrated in some parts of England, although sadly not in Dorset.
In Great Wishford near Wilton, Wiltshire, the day marks an ancient right to collect firewood in nearby Grovely Wood.
The BBC Wiltshire website recounts: "Early in the morning of 29th May, residents are woken by an excited crowd making its way to forest, where an oak bough is removed, decorated and then hanged from the tower of St Giles' Church.
In order to maintain their charter, the villagers must proclaim their right at a special ceremony in Salisbury Cathedral, where they repeat the ancient refrain: "Grovely, Grovely and all Grovely".
In Northhampton, a garland of oak apples is laid at Charles II's statue each year. In a short article in The Northampton Chronicle it states that the king donated over 1,000 tons of timber to reconstruct the church and halved the town's taxes for seven years following the Great Fire of Northampton.
In London, the Chelsea Pensioners parade on this day for inspection by a member of the Royal Family in honour of King Charles II at the Royal Hospital, Chelsea, which he founded as a home for army pensioners.
It's a shame we don't celebrate Oak Apple Day here in West Dorset. Personally, I think it's high time that "Pinch-Bum-Day" was reintroduced.
On that note, have a happy Oak Apple Day and "Grovely, Grovely and all Grovely."