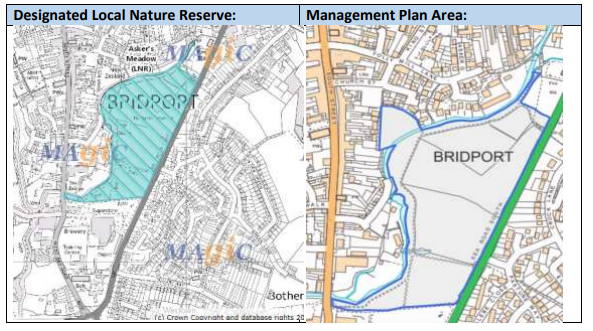 Bridport Town Council working with the Asker Meadows Local Nature Reserve Group has been developing a new management plan for the popular riverside meadows and are now seeking public views on the draft management plan.
Asker Meadows is a much-loved and much-used green space close to the heart of Bridport.
The meadows, together with the area known as New Zealand, provide much-needed green spaces for wildlife, for a range of community events, for walkers and their dogs and for a Sustrans route for cyclists.
Over the last five years, the town council and the Asker Meadows Nature Reserve Group have carried out practical improvements. More activity now needs to be considered and planned for.
The draft management plan puts forward a vision for the site: "An area rich in wildlife, enjoyed by local people for informal recreation".
The main objectives of the plan are to:
Maintain and enhance the grazing meadows for their wildlife interests
Safeguard wildlife interest along the river corridor, including non- intervention/ sanctuary areas
Undertake tree planting and hedge management to provide wildlife interest and structure.
Maintain surfaced paths as shared spaces for walkers and cyclists
Run education events to promote awareness and appreciation of wildlife and encourage responsible behaviours
Create seating/ picnic areas to encourage people to enjoy and get to know the area
Manage the Show Field for a select number of community events
Town clerk Will Austin said: "It's very important that local people tell us what they think of the plan as it will guide future use and management over the next 10 years. Whatever your views, let us know – a quick email will be fine."
Take a look at the Draft Asker Meadows Management plan at: https://www.bridport-tc.gov.uk/wp-content/uploads/2019/02/Asker-Meadows-Management-Plan-DRAFT-v.2-010219-1.pdf
A display of the draft management plan is available for viewing at the Town Council Offices at Mountfield during office hours Monday – Friday.
Asker Meadows Nature Reserve Group will hold a public event (to be confirmed).
All comments should be emailed to ddixon@bridport-tc.gov.uk or posted to Bridport Town Council, Mountfield, Bridport, DT6 3JP
The closing date for comments on the draft Asker Meadows management plan is Friday 5 April 2019.