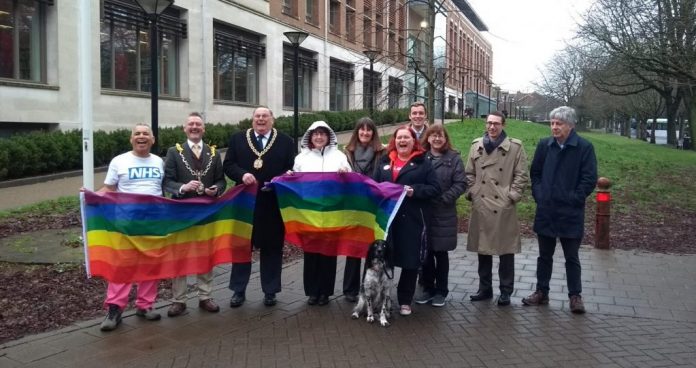 Three councils have raised rainbow flags to show support to LGBTQ+ communities and mark the start of LGBT History Month.
Rainbow flags have been raised outside the offices of North Dorset District Council, West Dorset District Council and Weymouth & Portland Borough Council.
Ceremonies were held outside two of the councils' offices on Monday 4 February attended by councillors, council staff, members of UNISON (who helped organised the events) and local LGBT groups.
The Chairman of West Dorset District Council, Cllr Peter Shorland and Mayor of Dorchester, Cllr David Taylor raised the rainbow flag – a symbol of LGBTQ+ pride – outside South Walks House in Dorchester. 
Speaking at the ceremony on behalf of West Dorset District Council, Cllr Shorland said: "By raising the LGBT flag at our offices, we are demonstrating that we are allies to the LGBT community.
"Our offices, as places to work and where services are delivered, are a safe place where we respect the diversity of love, relationships and identity.
"We strive to reflect this in the services we provide, while committing to continuing to learn and improve."
The Mayor of Weymouth & Portland, Cllr Gill Taylor raised the flag at Weymouth & Portland Borough Council's offices at Commercial Road.
Speaking at the ceremony on behalf of Weymouth & Portland Borough Council said, Mayor Taylor said: "This year is a particularly significant year for the LGBT community as it marks the 50th anniversary of the Stonewall Riots in New York which was probably the most significant event in the leading to the gay liberation movement and the fight for LGBT rights in the United States.
"In the United Kingdom, LGBT History Month is recognised as an opportunity to demonstrate that LGBT people are welcome, valued and respected in our community. To raise awareness, to educate and to inform; and to celebrate achievements and sending out a clear message of support and campaigning against the ongoing discrimination and inequality faced by their community.
"However we are all one community and that is something we should never forget."
West Dorset District Council portfolio holder for Equalities, Cllr Stella Jones MBE said: "We're proud to be flying the rainbow flag on behalf of West Dorset. We want to show to that we be believe in equal rights and equal treatment for everyone in our community. And that we recognise the struggles LGBTQ+ have faced, and still face, on daily basis."