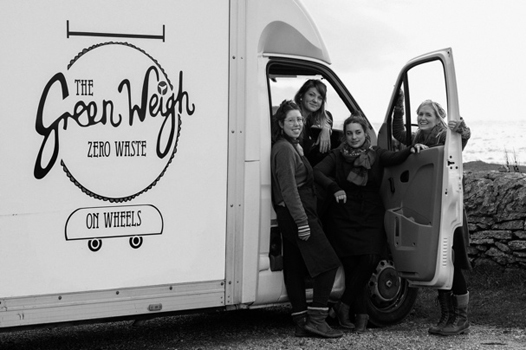 Mobile zero waste shop The Green Weigh has added two new locations to its weekly schedule, now taking plastic-free shopping to nine locations across the area.
The Green Weigh was founded by Bridport Mum's Alex Green, Libby Rogers and Kate Robertson who have themselves reduced household waste through buying less plastic.  Since launching in August 2018, The Green Weigh's packaging- free shop on wheels has become a weekly shopping presence in Bridport, Axminster, Lyme Regis, Charmouth, Dorchester and Burton Bradstock. Libby says "We are so happy to be adding the areas of Beaminster and Maiden Newton to our weekly schedule. Our plastic promise is to try and help reduce plastic pollution across Dorset and make plastic-free shopping accessible to as many communities as we can."
Kate says "We've had lots of requests to stop in these areas and we're looking forward to meeting shoppers who have expressed real interest in buying their shopping free from packaging."
Customers are encouraged to bring along anything that they can reuse- including containers, cloth bags or plastic bottles to refill with over 200 different products, supplied loose out of their converted van. Popular products include pasta, rice, cereals, shampoo, washing up liquid, laundry liquid and fabric softener. All of their products are eco-friendly and are priced to be affordable.
Alex says "It's been brilliant to see more and more customers who are becoming aware of the plastic problem. They are embracing having the choice of buying their shopping without excess packaging and it's so rewarding to know that what we're doing is helping to reduce plastic pollution where we live."
In March, The Green Weigh will be launching their online home delivery service, where customers can place orders via an online shop and have their shopping delivered to their door. Libby says "There are a lot of people who want to reduce their plastic impact but who work during the day, so they can't make it to our van. We want to help those people by offering deliveries at a time when they are at home." Kate says "It's the next big step forward for our company and we are excited to see what the future will bring!"
For further details about trading locations see social media or www.thegreenweigh.co.uk
Photograph by Brendan Beusnel
INSTAGRAM: @thegreenweigh Twitter: @Green_Weigh Facebook: The Green Weigh