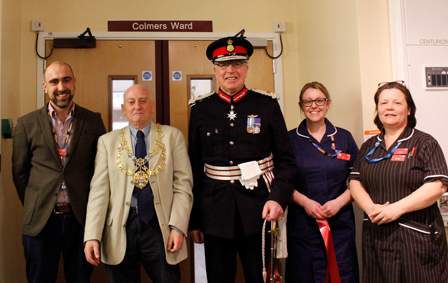 Bridport Hospital's new Colmer's Ward has been officially opened by the Lord-Lieutenant of Dorset, Angus Campbell.
The ward will provide high-quality care for the local community, with improved facilities for patients – especially for those with dementia or disabilities, and people requiring end-of-life care.
Bridport has already received national Gold Standard Framework accreditation for its end-of-life care, and this will now be enhanced with ensuite facilities and somewhere where relatives/carers can stay to support loved ones in their final days.
The 24-bed ward – named after the nearby landmark Colmer's Hill – replaces the Langdon and Ryeberry wards.
The Dorset HealthCare-run hospital also hosts a local multi-disciplinary team of doctors, nurses, therapists and social workers who proactively support older and frailer people to remain in their own home for as long as possible.
If a hospital stay is required, the team will work hard to ensure this can be as brief as possible, as people will be more mobile and active in their own environment.
Matron Ellen Holmes said: "The refurbishment is a major commitment to providing high-quality care for local people at Bridport Hospital for many years to come.
"We are very proud of the range of services we provide at Bridport Hospital for local people and the dedicated work of our teams to support them at home wherever possible.  However, there are times when a hospital stay is necessary.
"With our patients having an average age of 86, we want to ensure we can provide the highest quality care in an environment that supports their recovery and rehabilitation.  The new ward will offer an improved experience to our patients, their carers and for our staff.
"We'd also like to thank the Bridport Hospital League of Friends for funding a Tovertafel 'magic table', which allows patients to play interactive games and music, and to reminisce, while in hospital."
Town Mayor Councillor Barry Irvine, League of Friends members, volunteers and local residents joined the Lord-Lieutenant for the ward opening. They enjoyed tea and cake, plus a tour of the new facilities.
Bridport Hospital is one of 12 community hospitals run by Dorset HealthCare. It also provides a range of outpatient services and day surgery, alongside a minor injuries unit (MIU) which is nurse-led and offers a variety of services and treatments for minor ailments and minor injuries. The Colmer's Ward is for patients who require a short inpatient stay either following admission to an acute hospital or from home for more intensive support.