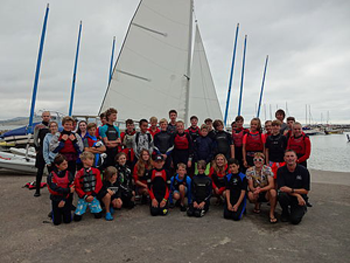 Lyme Regis Sea School has bought a new dinghy trailer to launch their boats thanks to funding from Magna Housing.
The school was set up in 1995 as a registered charity designated to teach people of all ages to sail. Everyone is a volunteer and gives up their time for the enjoyment of the sport.
Local housing provider Magna Housing donated £325 for a new trailer. The money comes from Magna's their community engagement fund, which provides funding for local projects and improvements to the areas where they have homes.
Neil Bliss, resident and community engagement officer at Magna, said: "We have 192 homes in Lyme Regis. We support the communities we are based in and the sea school provides an excellent opportunity for local children and adults to learn to sail, which is something that we are lucky to be able to do on our doorstep."
Nikky Williams, centre principal at the sea school, said: "We are a non-profit sailing school and are really grateful for the support and donations we receive from local companies. Without the trailers, we wouldn't be able to get the newer boats into the water. With 21 boats, that all require their own trailers, there are a lot of costs involved for purchasing and maintenance.
"We'd like to thank Magna Housing for their generous donation and support."
For more information about the community engagement fund, contact Neil Bliss on 01984 635134 or email neil.bliss@magna.org.uk
You can find out more about The Lyme Regis Sea School at www.lrss.org.uk