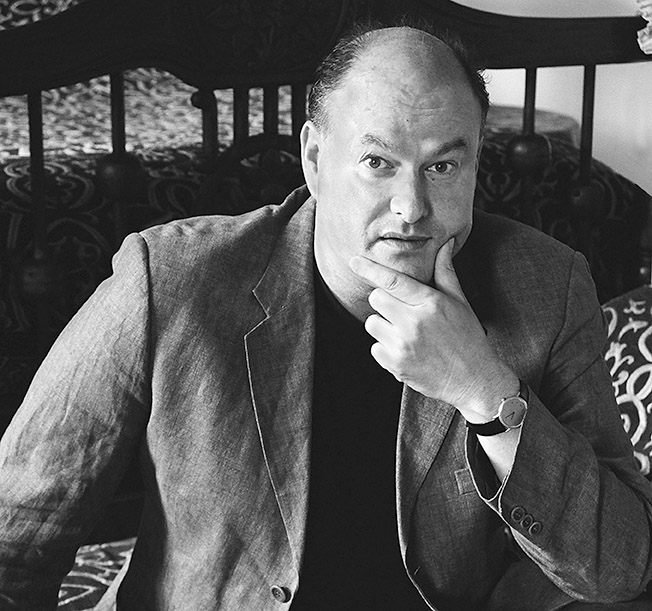 The day Gijs van Hensbergen's Guernica: The Biography of a Twentieth-Century Icon arrives in the post is the same day that more than 300 people are massacred in a school in southern Russia. It is an irony that is not lost on the author, who found many parallels with the current climate of unrest while editing the final draft.
The book tells the story of a painting produced by Pablo Picasso over a six-week period in 1937. Painted on more than seven meters of canvas that Picasso had to literally squeeze into his studio in Paris, it was a response to the decimation by bombing of the Spanish city of Gernika (Basque spelling), the spiritual homeland of the Basque people. It has come to symbolise for many the horror and fruitlessness of war and atrocity and has become a symbol of man's brutality and 'human inhumanity.'
A resident of Bridport in Dorset, Gijs van Hensbergen doesn't claim a strong family influence for his interest in art. A 'corporate orphan' whose father worked for a multinational, he grew up travelling the world. Having studied medieval Dutch and German and not found it overly inspiring, his change of direction to study art was more by chance than design. One day while walking through Portland Square he saw a beautiful building, walked in and asked what happened in it. "They said History of Art" he remembers. "I never knew it existed so I applied and got in." About two months before finishing his degree he was offered a job with an art dealer in London and found himself selling paintings worth half a million pounds. "I did that for three years" he says. "I wasn't a particularly gifted dealer but that was where I learned so much about American Art. One day someone suggested I should do research so I went back to the Courtauld to do a doctorate." He didn't finish his doctorate but did meet his wife Alex. They went to live in Spain and it was there that he wrote his book A Taste of Castile.
His highly acclaimed biography of Gaudí, which revealed more about Gaudí's personal life than had ever been reported before, was published in 2001. However Picasso was always close to van Hensbergen's heart. "I was incredibly lucky" he says. "I had three of the worlds top experts on Picasso as my tutors. Anthony Blunt, John Golding and Christopher Green. John Golding was particularly inspirational. His love of Spanish culture was a great influence."
Although Guernica has been the subject of dozens of books, Gijs van Hensbergen's offering probes the historical background to the painting without dwelling on art history. This makes for compelling reading. He tells the story from the painting's beginnings in the Spanish civil war, through its use as a weapon in the propaganda battle against fascism, then its role as a symbol of reconciliation when it returned to Spain after the death of Franco and the re-establishment of democracy in that country.
Without unnecessary detail it tempts the readers' imagination with snippets of the social world in which the artist lived during his life in exile. Photographs of Picasso with lovers and friends add an extra dimension to the historical context of the Guernica period.
Exhaustive research, including taking out adverts in, and trawling through archives of, local newspapers, allowed van Hensbergen to trace the movement of Picasso's masterpiece as it travelled through England and America against a background of political wrangling and intrigue. The efforts to get the painting back to Spain were particularly difficult. Much gossip and obfuscation needed to be untangled and van Hensbergen doggedly pursued the detail to present an intriguing and moving picture of the events and people involved.
Setting the painting against a historical background highlights even more the almost chameleon like ability of Guernica to be all things to all people. "It has almost a human presence" he says, "something that changes as we change, something that has changed history and looks different at different times."
The painting has an ability to reach people at different levels with a compelling message but that message can only be interpreted by each and every individual. Van Hensbergen says, "You stand in front of the painting and teenagers who turn up chatting are suddenly silenced, they look stunned, some possibly not knowing what they are looking at."
As the event and the painting it inspired merge into one, the lie, perpetuated by Franco supporters that the bombing of Gernika actually never happened, still echoes in some corners of Spain. The late Sir Michael Culme-Seymour of Witherston in Dorset was on a ship in the Bay of Biscay on that fateful night and is quoted in the book saying, 'It was horrific. From out at sea we could see the smoke rise. Of course, we couldn't know then the real target.'
Setting such an important and powerful painting against a political and social background serves to cement Picasso's vision and passion to the event that inspired it.
Today the horror of war and the senseless brutality of which the human being is capable, can be flashed across a TV screen as it happens. Picasso's considered, yet deeply provocative response to the same senseless cruelty shows the potency of art when used as a tool to both horrify and heal. Gijs van Hensbergen has taken a powerful painting and highlighted not only its importance to the world of art but also its vital role in history.
His book has taken the most important work of the most celebrated artist of the twentieth century and offered it to a wider audience, in a world that is in dire need of listening to its message.
Gijs van Hensbergen will be signing copies of his new book at The Bookshop in Bridport on October 16th from 6-8pm, Hooked on Books in Chard on October 30th from 11am-1pm and Ottakers in Yeovil on the same day from 3-4pm. Guernica: The Biography of a Twentieth Century Icon is published in special hardback with wraparound jacket by Bloomsbury Publishing on October 11th.