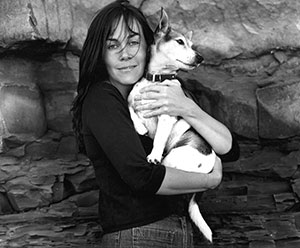 Born in Germany, Niki's early years were spent in Devon before moving to Somerset.
In her arts career Niki has directed, choreographed, written, taught, managed the Tacchi Morris Centre near Taunton and been Press and Publicity Officer for the Chard Festival of Women in Music. In 2000 she received a Year of the Artist award with Bridgwater Arts Centre, coaching local workers to create their own original dance pieces.
However, her first love is performance. In the early days she learned circus skills in Paris and became an accomplished trapeze artist and unicyclist. Her solo performing career was launched in 2001. Her one-woman physical theatre show Worm-Hole received critical acclaim at the Edinburgh Fringe and toured throughout the UK, North America and Prague.  A South West Arts award for her next production Heretic led to Niki touring the show throughout the South West, before four months on the road through Canada and the USA.
Niki's Jack Russell, Paddy, is her devoted companion. They pine for each other when Niki tours. He provided the inspiration for Niki's children's show, for the Prague Fringe Festival in 2003. In Throw Me a Bone, Niki plays a small dog awaiting her dinner, passing the time with imaginary adventures. A sell-out success in London and the USA, the show is currently on the Take Art! Rural Touring Circuit in Somerset before further international venues.
For more information about Niki see her website www.nikimccretton.com