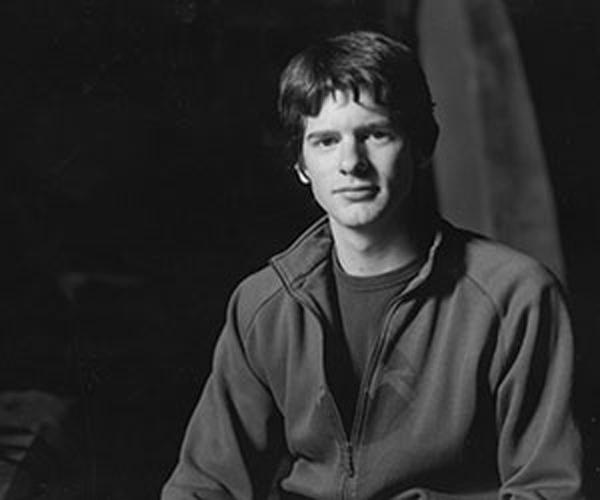 'I am the youngest son of John and Joan Stuckey (nee Down). Both families have lived around here for generations and on my father's side, the Bowditches have been here for centuries. My family home is a smallholding, in the hamlet of Blackpool Corner, between Raymond's Hill and Lambert's Castle.
For many years my parents grew wheat for thatching reed; Dad also worked as a self-employed structural engineer, designing and constructing farm buildings. We grew field beans and a variety of vegetables. Mum had a free range egg business, and sold to local shops and supermarkets; now the supermarket is more centrally organised and local supplies are no longer required. These days we let our fields out for grass keep and both my parents are employed outside the agricultural sector.
Over the years it's become increasingly difficult to make a viable living from farming. Some farmers are lucky enough to be able to diversify, but many have to subsidise their farm income with other work.
Rural industries have been hit hard by a combination of increasing bureaucracy and neglect by successive governments. Schools, post offices and shops are at the heart of any rural community; without them villages struggle to maintain community spirit. It's a real shame that the rural way of life is under threat, but working together as a community can resolve some of these issues. With enough dedicated residents and some support, it may be possible to reverse the spiral of decline and restore village services.
I love the friendly atmosphere that comes with living in a close rural community, and the way that many families have known one another for generations. Although it's often said there is little for teenagers to do in rural areas, I had a great time, thanks to my brothers Andy and Stuart and older friends who took me under their wing.
Living on a farm, there was always something to do. Learning to drive tractors and helping with the harvesting are some of my happiest memories.
Every year my brother and I go, with family and friends, to Honiton Hill Rally, normally entering a tractor or piece of machinery. It's great to see all the classic agricultural machinery of years gone by and play a small part in keeping it alive for another generation.
After Axminster Primary School I went to Axe Valley Community College then on to Colyton Grammar School to study A-level Biology, Chemistry and Maths. I am now twenty, and currently in my third and final year of a BSc Biological Sciences degree at the University of Exeter. I am particularly interested in molecular biology and genetics. University is a great experience, not just the academic side, but also the chance to make friends with people from diverse backgrounds.
I am a member of the Axminster and District St John Ambulance, providing first aid cover for a variety of events in the community. Next year I start a Secondary Science Post Graduate Certificate in Education (PGCE) course at St Luke's Campus, Exeter.
Although my intended career will probably take me away from my farming roots, the rural way of life is still very important to me, and like many young people, I share a concern for the environment. Awareness of climate change is increasing, and the government is at last beginning to take notice. More challenging targets are still required, along with sustainable development, responsible planning and more investment into renewable technologies, such as solar, wind and tidal energy, as well as ethanol crops and carbon neutral wood fuels such as willow.
We can also make small changes ourselves, which cumulatively will make a big difference. Household recycling and energy conservation, already successful in other countries, are two simple ways to help reduce environmental damage.
I consider myself lucky to live in such a wonderful community, surrounded by beautiful scenery and supported by such fantastic family and friends. Wherever I end up living, I will always think of the edge of the vale as my home.'