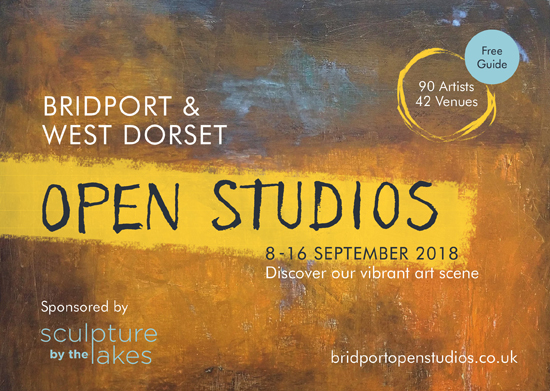 With just a few days to go until the end of Bridport and West Dorset Open Studios event, there's still time to get about into the depths of the countryside and enjoy what's out there.
I had only a couple of hours to spare last Sunday morning so shot off with my artist friend, first down into the tiny lanes of West Milton and then on to Bradpole, before ending up at Eype Church.
Potter Katherine Lloyd at Milton Mill was our first port of call. I went into quiet raptures over one of her luscious bowls, which depicted trees and fields both inside and out. I gulped at the price tag but, hey, objects of beauty take a long time to create. They're wonderful works of art. And I want one.
I made a mental note to treat myself to this particular bowl when I next get a feature commission for a national magazine which has published three of my articles in the recent past but could really do with taking more.
As I went into paroxysms of desire over the bowl, Katherine was equally enthusiastic about my sparkly shoes. A kindred spirit, I thought, although I have very little artistic ability, even though I scraped through Art A level.
On then to Bradpole, where the directions to Kit Glaysier's home were spot on, although we couldn't find it once we go there. The large sign outside was probably a clue.
Once inside, we were shown some of his work which had escaped the flames of the terrible fire at St Michael's Studios but had suffered water damage. Incredibly, the watermarks on the canvas threw his charcoal figures into dramatic spotlight.
But Kit's cinematic landscapes were what I had come for. He has the ability to capture the things I see and marvel at on my daily dog walks. Dappling light on the paths at Lewesdon, the changing light over the Vale. Just beautiful.
And then it was on to Eype Centre for the Arts, housed in St Peter's Church and overlooking the sea. It's an incredibly joyous and dramatic spot, like something from a Hardy novel, and the perfect place to end our whistle-stop tour of Bridport and West Dorset Open Studios.
The Jurassic Artists is a collective of seven very talented people – John Boyd, Charlottle Miller, Maggie Cooke, Brian Cocks, David Emery, Lynne Grace and Marion Taylor.
It was the latter's work that drew me here. I just love a layered, little bit abstract landscape plunged into deep and vivid colours. It's how I see the countryside around me, all through the year.
To wander around the hallowed space of St Peter's Church, with its wonderful east window, and gaze at the beauty around me was simply breathtaking.
And then to walk out into the fields, the wind blowing my hair this side and that and making me feel grateful I'm not Donald Trump, well, just looking out across the verdant landscape down on to the village and sea below, it just about made my day.
Bridport and West Dorset Open Studios runs until Sunday 16 September. www.bridportopenstudios.co.uk