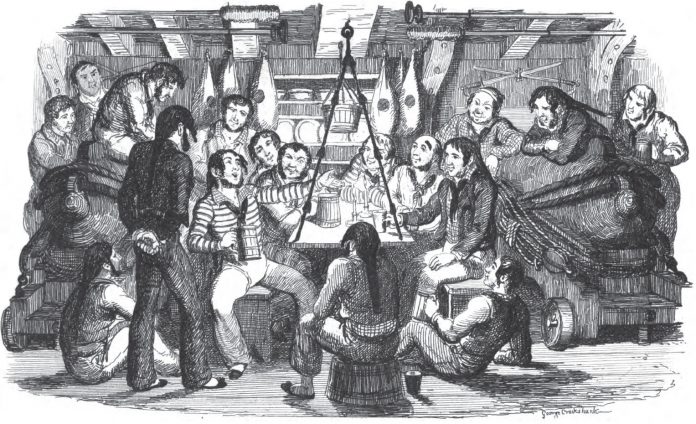 As part of the major "Turner in Bridport" exhibition this summer Bridport Museum will be holding a night of Shanty Shenanigans in the Town Hall featuring songs of sea from local musicians – all in aid of the Bridport Museum Trust.
The event will be held in Bridport Town Hall on Thursday 5th September and headlining will be the towns very own local shanty band, the recently formed Bridport Broadside's. They will be performing a selection of traditional songs and encouraging the odd singalong that will transport the audience to the sailing ships of old.
No evening of music set on the Dorset coast would be complete without some pirates and the evening will feature The Boarding Crew – an original pirate band from Chesil Bay telling salty tales of revenge and bloodshed on the high seas.
Ruthy ni Connalláin is a fantastic local singer who will be opening the evening with a set of acapella folk songs of love, loss and yearning.
Bridport Museum Trustee Keith Hatch said: "It was a real coup for the Museum to bring Turner's painting to Bridport, and it has been inspiring to see so many local people get involved by attending the exhibition and the many linked events around town."
"Towards the end of the exhibition run we thought it would be a good idea to hold a night of music based around the sea that inspired Turner – and what better way than with a night of shanties, pirates and folk songs."
The Shanty night takes place in Bridport Town Hall on Thursday 5th September from 7.00 pm
Tickets are only £8 adv (£10 on the door) and to get your tickets for "Shanty Shenanigans" pop into Bridport TIC or check out their website.
https://bridportandwestbay.co.uk/product/shanty-shenanigans-an-evening/