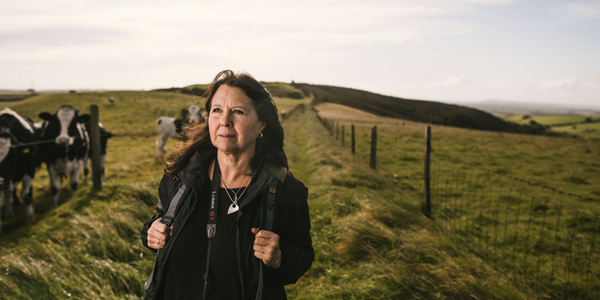 The maps are free and can be picked up from libraries and community points across the Ridgeway. You can also request copies from Dorset Area of Outstanding Natural Beauty.
'I wanted to make a modern interpretation of the ancient monuments on the South Dorset Ridgeway,' Amanda Moore explained.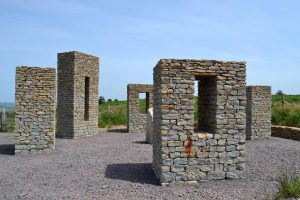 The Black Down stone circle consists of five 'totems' built from local Forest Marble stone. One is aligned with true north and the other four with the midwinter and midsummer solstice sunrises and sunsets. In clear conditions at each of these times, the Sun's full disc shines through an opening in one of the totems, lighting up a central rock of Portland stone.
The midsummer alignment was tested successfully on 21 June when people gathered to watch a perfect dawn sunrise.
'It's a really amazing site for a piece of art,' added Amanda.
'There are 360-degree views from up there and you can see all the way down to Golden Cap and Devon beyond. Before we made the piece, the site was underused and overgrown with knotweed.'
New walking maps
Discussing the walking maps Amanda Wallwork said: 'I used the familiar format of a map as a way of drawing attention to the underlying geology which is the basis of the landscape. It's all about navigating that landscape and seeing more by looking at what's below and how that affects what's above in terms of what lives there and how we have used the land.
'This was a fascinating project for me because it covered lots of my long-term interests such as archaeology, the presence of the past, geology and deep time and how we read that.'
The project was a collaboration between The South Dorset Ridgeway Landscape Partnership and The Arts Development Company, funded by Arts Council England.
Public art collaborations
It is one of many public art collaborations being managed across Dorset. Others include work by international artist Michael Pinsky at West Bay, a new children's playground at Norden in Purbeck, a redesign for Shore Road in Poole, (which also involves Amanda Moore), and plans to commission artists to install boundary stones or gates on rights of way at parish boundaries.
One of the most exciting future projects involves restoration of the historic ford on the River Lim between Lyme Regis and Uplyme, the longest ford in England. The idea is to repair the original ford, making a fantastic space to relax and watch wildlife as well as showing how farmers once used the ford to drive cattle to market. Over the summer, master stonemason Tom Trouton will be investigating whether the original cobbles are still there under the concrete.