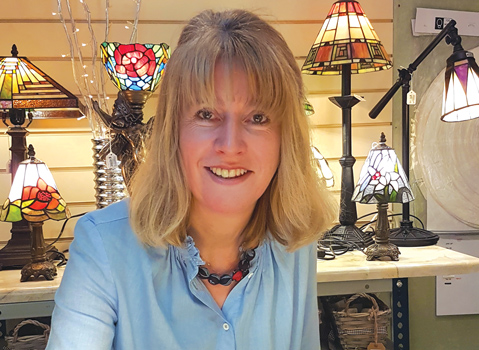 One of the stalwarts of Bridport's independent shop scene has changed hands. Owner of Bridport Lighting, Ann Griffiths, took over two and a half years ago, buying the shop which has been in South Street for over 30 years. Although keen to keep the feel of the shop and retain the usual offerings for the existing loyal customers, Ann has managed to inject a fresh new selection of modern, fashionable and classic lighting products, attracting an additional surge of local custom. Her attention to detail, ever-changing stock of lights, lightbulbs and furnishings means she is busier than ever.
With a background in banking, Ann is used to customer-facing roles. However, she didn't know much about lights when she bought the shop. After a six month handover with the old owners, she was then able to take the reins with confidence. Having also completed an interior design course and worked in the design industry for fabric and wallpaper suppliers, Ann was well versed in business know-how. Putting what she knows into practice every day Ann runs every aspect of the shop, opening it, shutting up and then doing the bookkeeping and admin. With two assistants to help during the week in the shop, Ann is also able to scoot off to a couple of trade shows each year as well.
There is a surprising amount of diversity of stock on display. Rope lights dangle down and new wire filament bulbs entice the pavement gazer. There are glass and fabric shades, converted oil lamp chimneys, wall lights and standard lamps, all nestling together. With a dedicated light bulb section, Ann is able to advise, demonstrate and lead the most unfamiliar shopper through the maze of bulb regulations and changes.
After a day's work Ann might head home, to be found at her desk with a Manzanilla sherry in hand, completing the last of the admin. Or, she may go straight out to the bright lights of one of Bridport's hostelries. She enjoys living in a town with so much to offer and eats out regularly. At the weekend she takes advantage of her National Trust membership, visiting all the estates and gardens in the area. However, Ann is branching out further afield this summer, on a sailing and cycling holiday in Croatia – a light bulb moment which she is now starting to regret!