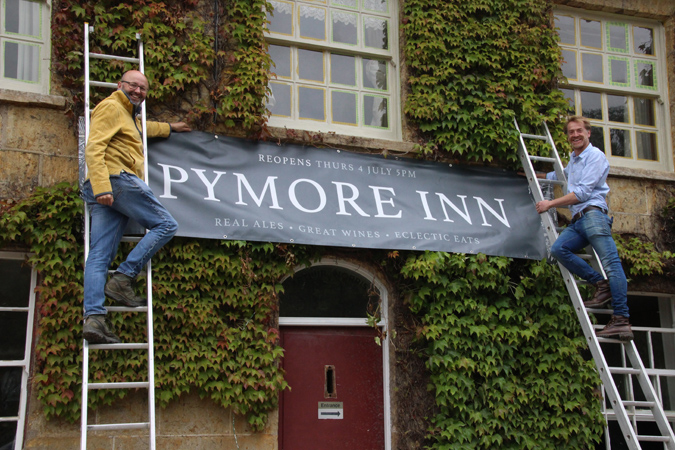 The Pymore Inn, on the outskirts of Bridport, has recently been purchased by the owner of the Bridport Electric Palace and is re-opening at 5:00 pm on Thursday, July 4th after an extensive face-lift to bring this charming country pub back to life.
The new owner, Alasdair Warren, has teamed up with local publican Steve Killingbeck to run the Pymore Inn.
Alasdair, who grew up in neighbouring Melplash, said "When I was growing up, the Pymore Inn was always one of the best pubs in the area – well known for its lovely garden and great food.  I wanted to bring all that back and more – creating something really special and very different from any other pub in the area".
Nestled in the beautiful Brit valley, amongst the hills and fields of West Dorset, the Pymore Inn will offer a largely British menu with an inventive twist, using the very best local produce, seasonally changing and lovingly prepared.
This free house will carry a broad selection of real ales and ciders, sourced locally and from further afield, with regularly changing guest ales. To complement the food menu, there will be a bespoke selection of wines from Dorset vineyards and from around the world supplied by Morrish & Banham, local independent wine merchants, and in addition, there will be a choice of cocktails and mocktails, exclusively designed by Lloyd Brown of Grey Bear.
During the summer months you can relax with friends and family in the large walled garden with its outdoor bar and kitchen, enjoy a meal, a Pimms or refreshing pint, a glass of rose or a long cool cordial whilst the sun goes down behind the surrounding tree-topped hills – a truly special al fresco drinking and dining experience.
As the evenings draw in, the glow of our garden fire will keep you warm outside or, if you prefer, step inside to our cosy and comfortable interior, packed with interesting artefacts reflecting the character and history of Pymore and the local area – the perfect backdrop for savouring one of our high quality seasonal dishes. Then, as winter approaches, relish the prospect of a roaring log fire, warming drinks and a hearty meal. This is, unashamedly, a pub for all seasons.
From the centre of Bridport, The Pymore Inn can be reached after a pleasant 20-minute stroll or an easy 5-minute cycle ride. Alternatively, park your car at the pub and take a walk beside the River Brit or along one of the many footpaths and bridleways that abound in this beautiful corner of Dorset. Families and children, cyclists, walkers and dogs, will all be welcome.