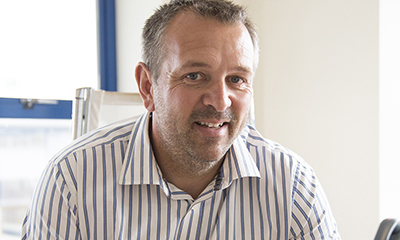 If you were to pass the A.P. Chant offices in Bridport at 4.30am and see a light on, you'd be forgiven for thinking the building services company had left the light on. More likely however is that owner Ashley Chant has started his working day. Preferring to get up early than work late, Ashley has grown his business from local plumber to West Dorset's biggest privately-owned plumbing, heating and electrical specialist.
Born in Bridport, he did a local four-year plumbing and heating apprenticeship. However, at 20 Ashley decided to go with his girlfriend Lucy (now wife) to Bavaria for a year, which she was doing as part of her degree, so studied German at night school to prepare.
Immersing himself in the country when he arrived, Ashley found his time abroad invaluable. With German technology at the time around ten years ahead of British plumbing techniques, what he learnt prepared him to set up his own progressive business when he returned home.
'I'd find myself at a crossroads with the business where I could go left or right and just seemed to keep going right, making the right decision,' says Ashley. 'Winning the contract for Magna Housing was the first big step. It became apparent we were giving away a lot of electrical work, so we bought Martin Radcliff's electrical business. A few years later we bought R&C Poole Building Contractors to create a one-stop shop.'
Ashley says he wouldn't have the success he does today without his wife Lucy. The couple have also built a showcase educational Centre of Renewable Energy; The CORE, which includes carbon free conference facilities. Ashley makes time as well to train the Bridport U15 cricket team and go fishing for crabs and lobsters in West Bay, something he has been doing with his uncle for the last 25 years.