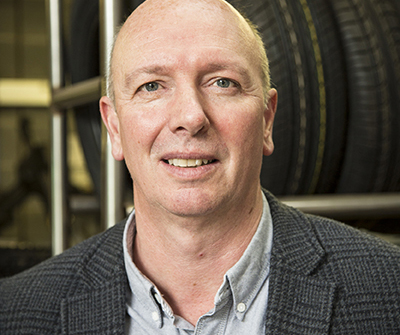 While attending St John Colfox school in Bridport, Steve Kilcoyne discovered he had a talent for running and hurdles and was County Champion three years in a row. He won a scholarship to Milfield School to be mentored by 400m Gold Medalist Athlete, David Hermery. However, a moped accident on East Road damaged Steve's knee, presenting the young man with a sliding doors moment…whether to continue with his sports career or study for an OND in Motor Vehicle Management in Poole & Bournemouth; he chose the latter.
After college and working for several motor trade firms in the Poole area, Steve successfully applied for the Open Business Enterprise Allowance Scheme in 1984. He gave up his job and moved back to Bridport, selling his pride and joy, a Triumph Stag motorcar, in order to pursue his dream of being his own boss.
Steve chose the name of Top Gear for his business and used the proceeds from the sale of his beloved car to buy stock. He supplied car products and car accessories from a shop in Tannery Road, steadily building the business over time. Steve then took a unit in St Michael's Trading Estate and continued to expand there through the late 80s and 90s until 2010 when he moved to Gore Cross Trading Estate.
Now with over 100 Top Gear franchises across the UK, (a map on the company's website www.topgear.co.uk shows their locations), Steve puts his recipe for success down to employing a team of really good people along with pure hard work and passion. Steve's stepson also runs a business in Romania, which they started together and his son works at Head Office in Bridport. With other complimentary businesses, including a factory in Thailand and a sister company in South Africa, it's a good job Steve loves travelling.
He also enjoys playing Real Tennis at Hyde and is Captain of the Men's team at Bridport Tennis Club. Although he never bought another Triumph Stag, this car enthusiast has just ordered a special edition Nissan GTR which will take up to a year to be constructed and delivered. Steve's Porsche Turbo will have to do for now as he waits in anticipation.