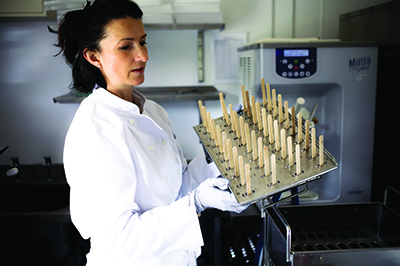 At the moment that might be a bit of a stretch for the imagination, but then could anyone have really dreamed that vodka produced in Dorset, made from the milk of cows reared in Dorset, would one day win a Gold Medal at the prestigious San Francisco World Spirits Competition? Or that wine made in Salway Ash, from vines grown on the edge of the Marshwood Vale would win distinguished awards and glowing praise from top wine aficionados all over the world?
People say that it is those who dare to dream that often reap the benefits and Sam Hanbury, co-founder of Baboo Gelato, believes that his company can one day be known as the producer of some of the best ice cream in the world.
Although less than a year old, the company has already received a Taste of the West Gold Award for their Lemon Sorbet and with a growing reputation for producing a product worth travelling for, Baboo Gelato may be well on its way to joining the many successful food businesses that have made Dorset such a foodie destination.
Perhaps the most important thing to know at the outset is that Baboo Gelato is not ice cream in the traditional sense. Made using an Italian technique it feels very smooth because it is produced using more milk than cream, and so is much lower in fat than traditional ice cream. That may seem odd to those who believe cream is the tasty ingredient in ice cream, but actually it's the cream that interferes with the flavour. As Annie Hanbury, after whose grandmother Babooshka the brand is named, explains, 'fat coats your tongue and stops your taste buds from tasting.'
Annie could be described as the heart and soul of the organisation, having studied gelato making at the Gelato University in Bologna in Italy. Here she learned from the world's master gelatieres the science of ice cream making. She now combines this very precise skill with her flair for flavour to make what may well become known as the perfect gelato. She and Sam work as a team 'I do all the boring stuff and Annie does all the glamourous stuff' quips Sam with a smile, but on a serious note, he says that the couple have a perfect alignment of skills.
It's true. Listening to them explain how the idea and the product developed into a business it is clear that Annie's practical and scientific approach balances deftly with Sam's bubbling enthusiasm—an enthusiasm that he struggles to contain as he explains what is needed to make a great product. 'There are three things that are relevant to making the world's best ice cream' he says. 'The first thing is great ingredients.' Sam believes that the quality of their locally sourced organic milk, along with wonderful fruit from their own garden as well as from nearby Forde Abbey, gives them access to 'phenomenal ingredients—apples, pears, strawberries, raspberries—and other fantastic soft fruits' that even Italian gelato cannot match.
The second thing is the machinery says Sam. 'We are an artisanal ice cream maker. This is something you cannot do in your kitchen.' The machinery is made by a company called Carpigiani which he describes as 'the Rolls Royce of artisanal ice cream making machinery.'
The third thing that they both agree is needed to produce a great product is great recipes. Annie explains more about the science behind the process: 'With ice cream it is very important to get the balance of sugar, fat, solids and water right in order to get the right consistency. It's very scientific; you have to know the exact proportions.' Sam says that this is the culmination of Annie's life. 'She has always been obsessed with cooking' he says. 'When we were younger she would sit in bed with cook books piled on either side of her. Any time we have moved house I have always been negotiating to throw away 20 years' worth of different cookery magazines.'
Annie recalls great competition with her brother Ivan in their youth over whose bolognaise sauce was best. She soon learned that cooking was all down to technique and began to study the science behind recipes, carefully weighing out ingredients when others simply used a Keith Floyd 'splash and a dash' method—perfect for a fun meal but hopeless if you want to produce a consistent product. Sam points out that because Annie does it so scientifically she can actually make any recipe, recently making Bellini lollies and cider lollies for one restaurant client.
Annie's time at the Gelato University of Bologna was an entry into a community that she has benefitted from enormously. 'It was like a mini United Nations' she says 'with people from all over the world: Kazakhstan, Chile, Peru, The Philippines, and Thailand—everywhere. We set up a Facebook group and because everybody is so spread nobody feels that they are competition to each other. We share recipes, tips and help each other with problems.'
However, although they have had input and inspiration from all over the world, getting their core range of products up to perfection has been the focus in the first year and the couple have recently opened a kiosk in West Bay selling hot drinks and gelato. Without over-facing themselves and trying to be too clever with their options, they have produced a range of delicious ice cream flavours, and despite our somewhat unsurprisingly unsettled weather, the West Bay kiosk is doing brisk business. But what happens when the summer is over? It's a question that Sam grapples with. 'At the moment there is a completely English attitude to ice cream' he says. People generally need to be hot and the sun needs to be shining before they will buy ice cream. 'Whereas in Italy, even if it is December or January they will be queueing up at a Gelateria just because they like a flavour—it's a different state of mind.'
Sam believes that part of the reason for the different state of mind is the quality of ice cream available and that is something that he and Annie want to change. As Annie explains 'Gelato is denser and it's got less air pumped into it. Sometimes industrial ice cream, the cheaper stuff, is very fluffy and you're eating mostly air. Being denser your flavours are stronger and brighter. I think what people appreciate here more than anything is the fresh flavours. Because most ice cream that you get is made from concentrated paste. So when somebody eats one of our rhubarb sorbets for example, it's got real rhubarb in it and they get a "Wow" factor.'
Baboo Gelato was born out of a need to find a use for the abundant soft fruits left over when Sam and Annie bought their house outside Bridport. It was on the site of a market garden which had gone somewhat 'out of control'. Now the couple have worked hard to rein in most of the best fruit and developed something that might offer a ray of sunshine for those days when the sun is hiding. Whilst local pubs and restaurants are seeing the benefits of stocking a little bit of something special on their dessert lists, Baboo Gelato is also available at a limited number of local shops including Washingpool Farm Shop outside Bridport and North Perrott Farm Shop near Crewkerne.
This is an ice cream worth seeking out and for those that like to mix their local foods Annie has suggested a recipe that could easily find its way onto the menus of local restaurants. She calls it 'The Baboo Sgroppino'. The Sgroppino is an alcoholic cocktail originating in Venice, Italy, where it is drunk as an aperitif, a palate cleanser or a light boozy dessert.  It is made of lemon sorbet, prosecco and vodka. Annie and Sam have made theirs into a Dorset cocktail by using their own award-winning lemon sorbet, together with neighbour Furleigh Estate's fantastic sparkling wine, and the renowned Black Cow Vodka.
For more information and a sneak peek at a new product line due to be launched in the Autumn, visit the company's website at www.baboogelato.com.