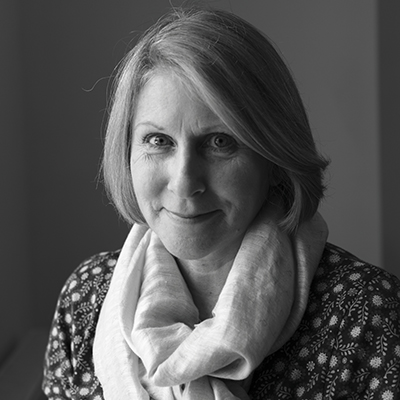 'My Dad came from an old Sussex farming family in the tiny village of Ifield, which developed into the new town of Crawley. My mother came from a completely different family; her family was artistic and ambitiously academic. They moved from Manchester to Crawley, which is where my Mum and Dad met. They married at the age of 19, and had my twin sister Lorna and me when they were 20. At that age twin girls must have been a huge challenge for them. Nonetheless Mum, Adrienne, was ambitious and went back to college, and became a primary school teacher. She adored her work, and was Head Teacher for over 20 years.
My Father, Jack, was an industrial engineer, so my parents both worked hard, but Dad kept more conventional hours, so that often when we came home from school we had lots of time with him, although of course we'd all be together during school holidays. Dad was a very active person and would take us on long country walks. He'd say "come on girls, up and out", and we'd walk for miles. He also took us swimming at the pool in Crawley, and built a bike for me so we'd go cycling too. Mum's teaching enabled long summer holidays—although I've no idea how Dad managed to get five or six weeks off—and we'd pack our Ford Anglia Estate to the roof with camping gear and head to the beaches of the south of France. We still do this every year, so that now France is like a second home to us. Even though our children have grown up, they bring their partners and we still all go together as a family, although not for six weeks, and swim, hike, and go rafting. We rent a house big enough for us all; I've done enough camping and prefer a bit more comfort. Family time spent together is really important to all of us.
I met my husband Richard when we were both on an A level geography field trip. We were rock climbing and he hauled me up, which was a great way to meet. I went to Roehampton to study English literature, which I loved, and he went to L.S.E and read History. We got married when we were 24, and bought a flat in London. I worked for a financial services company and learned all about mortgages, then for an insurance company. I loved my job, but commuting to London was really time consuming. We then lived in a village on the Surrey/Sussex border, and I gave up work to bring up our three children there. My husband had joined the Territorial Army which helped make ends meet, and he is still serving as a Major in the Rifles. All the years I was bringing up the children, he's worked really hard and made a good life for us. Richard travels around the world for his company ASMPT who are based in Weymouth.
Sport has been massively important to all of us, coming mainly from my Dad's influence as he is such an active and supportive person. Both my sister and I grew up in a sporting environment, and became strong swimmers, with both of us representing our town, and Sussex at county level. My husband's a great walker, and runs marathons and off road races, so our children have had a lot of encouragement from us as well as support from my parents and sister. We wanted them all to grow up healthy and fit, and take sport as seriously as their academic life. Being involved in sports opens up so much in life for youngsters; they meet people, and are challenged, all of which boosts their self-respect.
All of our children went to school locally either in Bridport or Colyton. Our eldest son, Alexander, is teaching science at a boy's school in Sussex and our daughter Harriet, aged 22, is a personal trainer. Phoebe, our youngest, is 18 and just about to take her A levels and hopefully go to university to study sport, with the aim of becoming a sports teacher. In fact, they're all very sporty and have competed locally and at a county level. Alex played rugby for Bridport, going with the team to New Zealand for three weeks on the trip of a lifetime.
I was sitting with a friend in Bridport Leisure Centre watching our children swim when we decided it would be great if we could get back into swimming ourselves. With the patient tuition of Mike Craddock we started, and after a month of sessions it had just come back, and felt totally natural. My friend and I encouraged each other when either of us felt a bit unenthusiastic, and both of us got involved with Bridport Barracudas where we coached. I swam competitively for the club in the Masters team, and I loved butterfly and backstroke. Butterfly's a bit of a killer, and really hard to swim well, but I love it and I'm really proud that I can do it. Personally, the best bit was that I had been a Mum for my children for a good ten years, and now the swimming was just for me. That inspired me to train as a swimming teacher and I started teaching at Bridport Barracudas and then Bridport Leisure Centre.
I love teaching swimming because I always work with such lovely people, from young children to adults of all ages. The young children are fascinating; their characters are so individual and exuberant. As they get a bit older and go to school they become a bit more compliant, but they're full of enthusiasm and just a real pleasure to be with. Adults are all very different, but they tend to learn with a sense of humour and are very good company. They are often there to push themselves, whereas with children you often need to coax and stretch them. Some adults are returning to swimming after a bad experience, and I'm there to reassure and rebuild their confidence. Teaching is not a process of saying "now we're going to do this"; it's always "let's try this together", so achievement comes at a gentle pace. Some of the more difficult to teach are the 40-50 year old men who want to be triathletes. They can run for ever, they can cycle for ever, fantastically fit, but all that heavy muscle works against them in the swimming pool so it can be tough. Sometimes they can't swim at all when they come to me, and they need to overcome their fears so that ultimately they can do a long very competitive open water swim and fulfil their ambition to complete a triathlon. They have great determination; they dig in and go for it.
We've had the campaign to keep the Bridport swimming pool open; I think many pools around the country are under threat as they are very expensive to run. When my sister and I were young we'd spend all afternoon playing in the swimming pool, or run and play in the fields behind our house, we had so much time and freedom. Times have changed for children; they don't seem to have that freedom now, so the pools aren't used as much by children and teenagers just coming to the pool and having fun. So that's what I'm aiming to do in the next year or two, to encourage children and families to come to the pool simply to have fun in the water, which is really quite a cheap way to spend some family time. I'm also trying to encourage families to bring in their children so that they can learn to swim confidently. Living near the coast as we do, we must teach our children to swim and how to keep themselves safe around the sea. Putting it all together, learning to swim brings lots of benefits to children for their physical development, concentration, and confidence, as well as enabling them to enjoy the water safely.'