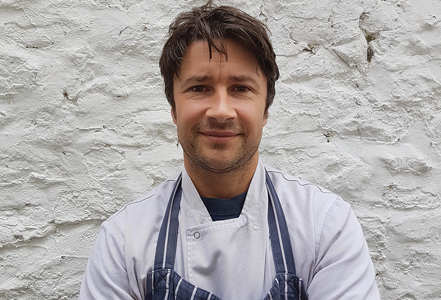 When your most vivid memory of childhood is licking an olive, or taking a tentative bite out of a slice of salami, it's no surprise that making food becomes your career. Which is what Gideon Hitchin has done, to great acclaim. Gideon is owner and chef at The Giant Club in Axminster, a restaurant that caters for those in the know, those in the Dorset and Devon food scene and those who enjoy elevated, excellent cooking that will send the taste buds soaring. Open for just over a year, The Giant Club offers six courses for a very reasonable £30, from a set menu every Friday and Saturday night.
Growing up at Symondsbury Manor, Gideon was no stranger to meeting new people on a regular basis, as the building was a college with students that came and went. However, in Gideon's early twenties Brighton and then London beckoned, along with their excellent party scenes, inducing Gideon to hone his chef skills at various establishments as well as generally enjoying life. That is until a phone call from Bridport drew him homeward bound to work for River Cottage, which proved to be an influential and pivotal time to be working there. He combined this with helping to open and establish The Electric Palace in Bridport for his father, cooking and greeting guests whilst enjoying the interaction and association with the arts.
Gideon then set up his own successful event catering company, however, this didn't have the personal cooking element that he relishes, and so, The Giant Club was born. The space is adorned with eclectic artwork that Gideon, his girlfriend Charlotte and his father have created. But it is in his food that Gideon's talents take centre stage. He likes to surprise, loves to please and is sure to have tried and tested everything he produces to make sure it is a sublime mouthful by the time it gets onto the diner's fork.