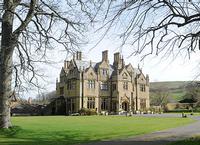 There is a small road, off the A35 on the outskirts of Bridport to Walditch which passes a gem of a mansion almost hidden by surrounding mature trees. This is building is The Hyde which might be described as Victorian Gothic, built by Joseph Gundry in 1853 and grafted onto the front of a Tudor house. In 1864 the historian Hutchins wrote that Joseph Gundry "was the largest owner of soil" in the Parish of Walditch. Gundry used local stone and a slate roof and added stables and coach houses with grooms quarters in 1884, followed in 1885 by a Real Tennis Court a short distance away.
Joseph Gundry had played Real Tennis at Oxford University and knew that the Prince of Wales was interested in Real Tennis and hoped to invite him to play a game in his new court. Unfortunately, Joseph was killed in a riding accident in 1891 with the Cattistock Hunt.
The house is now Grade II listed with its Victorian front section including iron window frames in stone mullions, and the JG monogram proudly displayed over the double front doors. Wood is used extensively for internal panelling, cedar, oak and pine and the entrance hall has an eighteenth-century carved oak fireplace and over mantel.
On the left of the hall is the dining or Russian Room, which has gold embossed leather wall covering believed to have been brought from a Russian monastery, above carved wooden panelling. The ceiling is of cedar wood, and the fireplace is carved with a male figure on the left and female on the right, each with a child standing in front. The main window is framed by carvings of grape vines and a large dresser to the right of the door has lion head carvings. With a little imagination, one can see Harry Potter in Hogwarts waiting for the owl post.
Immediately right from the entrance is the Adam Room, or lounge, with an intricate plasterwork ceiling and a fireplace bearing attractive blue lozenges. Further right is the present Library with another interesting marble fireplace and Dutch inlaid tiles.
A fire in 1922 severely damaged some of the earlier rear parts of the building but one room still carries a Tudor Rose ceiling.
The Hyde name has an early origin in the Subsidy Rolls of 1327 which show Thomas atte Hyde and Robert atte Hyde in Walditch. Then in the reign of Henry VIII a John Hyde is recorded as holding a "capital messuage and 60 acres of land in Walditch of Katherine Queen of England, by knight's service". The land continued in the Hyde family until the time of Charles II when a daughter of Thomas Hyde married Peregrine, Lord Dunblane. The land passed on to Thomas, Earl of Danby in 1688 and eventually to a Joseph Hardy, who had daughters, one of whom married Rev Dr Sherive, Rector of Bridport who then owned The Hyde in 1790. Shortly after it belonged to John Eames Downe who sold it to Joseph Pearkes Fox Gundry in 1849.
The first Gundry recorded in the Bridport area was Samuel, a felt maker in 1665, a Dissenter and Unitarian who was appointed to Bridport Corporation or Council in 1695. Soon the family were known as brewers and tallow chandlers. Then the family became middlemen in twine and net making, buying in raw material and employing cottagers to work on it. By 1763 a John Gundry was able to leave two houses in West Street, Bridport to his nephew Joseph Gundry, born 1811. One house was known as "Holland's Court" used in the netting business, this became known as "The Court", occupied by Joseph Gundry. In 1791 Joseph Gundry and partners Samuel Downe, Joseph Pike and James Kenway opened the first bank in Bridport.
Joseph Pearkes Fox Gundry was born in 1812/1813 and in 1836 became a partner in Joseph Gundry and Company and in 1849 became the "JG" of The Hyde. In 1855 he became Chairman of the Directors of Bridport Railway and "turned the first sod" for the line at Loders. Joseph P F Gundry was one of the founders of St Mary's Lodge of Freemasons in 1857 in Bridport and Grand Master about 1866. He became a J.P. and as mentioned died in 1891.
Next in line was another Joseph, born 1868, also a J.P. and a Major in the Yeomanry. He became High Sheriff of Dorset in 1921 and Deputy Lieutenant in 1933 but died in 1939. His successor was Squadron Leader Joseph Charles Fitzherbert Gundry, J.P., born 1905. He was Chairman of Gundry and Co. and on amalgamation to form Bridport-Gundry he became Vice Chairman. JCF Gundry sold The Hyde in 1987 and moved to The Hyde Farmhouse.
The Hyde has since become a Bupa Care Home.
During the last war in 1943 American servicemen of the 1st Infantry Division (called The Big Red One) were billeted in The Hyde, officers in the house and other ranks in tents in the grounds. It has been said that Generals Montgomery, Eisenhower and Bradley all visited separately. The Americans left in May 1944 for D-Day, but are still commemorated by a troupe of re-enactors who return to camp in the grounds and attend Church service. There is otherwise little sign of their time here, except that they removed the end wall of the Tennis Court to garage vehicles.
Until 1990 The Hyde had its own private water supply from a reservoir in the copse, but this became insufficient and mains water was supplied. At one time there were six gardeners, but now one keeps the gardens looking beautiful, some earlier features having been allowed to return to their natural state.