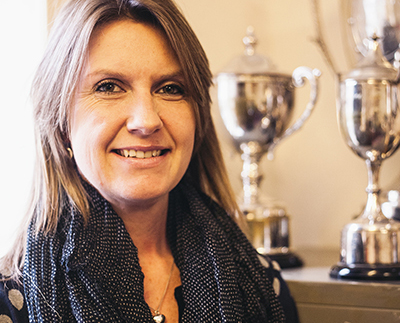 Although organising a one day show held the last Thursday before the Bank Holiday each August, The Melplash Show's Secretary, Lucy Hart, works year-round to produce the event. Planning begins 14 months before the big day, so while we're enjoying a cider and seeing all the animals in the August sunshine, next year's preparation is already underway.
This time of year Lucy tends to work around 15 hours a week, building up to 50 hours in the summer. Currently, the Show Secretary is setting dates for 2015 events and attending the section meetings, which take place throughout the Marshwood Vale. There are 13 sections including cattle, sheep, pigs and goats to heavy horses, horticulture, bees and woodcraft. Each has a Chairman and Committee who review the classes at the show and make any changes or improvements for the following year.
With her office open Tuesdays and Thursdays, Lucy works on the first floor of a building overlooking South Street in Bridport (look for the stuffed mascot cow in the window). Once the post and emails are open, the role is so diverse the Show Secretary could be busy typing minutes from a heavy horse meeting, to sorting out a virus on the computer that has invaded overnight. She might also be engrossed in helping set the budget for 2015, reviewing the layout of the showground or booking the main ring attractions. The day after the event you can find her picking up litter at the showground in West Bay.
"I love my job as it is so varied. I also go to other shows to judge their trade stands throughout the year. The best thing for me though is the people I've met and the number of friends I've made. And of course the number of things I've learnt, like maintaining the website, producing end of year accounts to discovering different things about animal husbandry", explains Lucy.