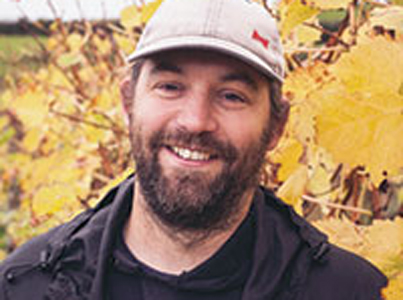 Picking, pruning and perfecting the vines, Rupert Leeds works hard under the Autumn sun to help produce a world renowned, award winning wine—and it's English wine to boot. Rupert works for Furleigh Estate, hidden in the depths of the Marshwood Vale.
Having just finished three weeks of intensive harvest you might think that the groundsman, head of harvest, sprayer and general caretaker of the vines might take a rest, but there is still lots to do. By December all the grapes that have been picked are pressed and siphoned into tanks ready to be turned into wine. Now three months of pruning begins followed by the tying down of the plants in time for bud burst, which is when the plants become quite delicate.
"Bud burst is my favourite time of year" explains Rupert. "It's about the only time it seems the vines are under control. You feel you're on top of things before they really start growing. Everything is tidy, all the repairs have taken place over winter and we're ready to go for the rest of the year."
"From May to September the plants are sprayed every 10 days. I'm outside almost every day in the year and love seeing the seasons. Originally, I'm from Kent but I knew when I moved down here that I wanted to do something outdoors where I could appreciate the wonderful scenery."
Although happy to take home a bottle of Furleigh Estate wine to share at the weekend, Rupert's real passion is the grapes and how to grow them. He has some vines of his own at home, which he admits tend to be a bit neglected. Preferring to concentrate on making wine on a large scale, this wine worker looks after 22,000 vines year round.
Even though within the winery the temperature controlled stainless steel tanks are from Italy and Germany, the oak barrels from Cognac and riddling and dosage machinery from Epernay in France, this is very much an English wine affair.