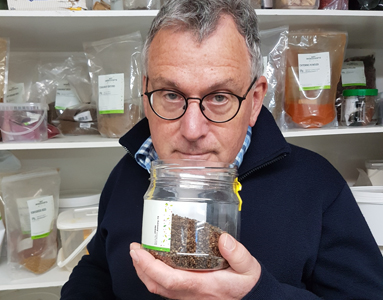 The Dorset Spice Shed is more than just a shed. It's Richard Mabb's working-week home where he's building on a love-affair with herbs and spices that started in childhood. Now based at Bridport's Dreadnought Trading Estate, the business, which also makes The Seasonist meal-kits started from Richard's shed in Askerswell.
Moving back to the house that he'd grown up in Richard stepped through the door and smelt 'home' emanating from the old spice rack in the kitchen. Richard's mother, born and raised in China, had always used a diverse rich variety of herbs and spices. He has warm childhood memories of delicious ginger-fragrant Chinese dumplings being cooked by his grandparents, mother, uncles and aunts in West Bay. So, after moving back to Dorset and deciding which direction to pool his passion and entrepreneurial energy into next, he followed his heart and chose spices.
As The Seasonist Richard makes quick-to-prepare risottos, rice puddings and couscous, all expertly seasoned for flavour. The Dorset Spice Shed has all varieties of flavoured salts, individual herbs and spices and signature blends to season everyday cooking. He asserts: "There's nothing you can eat or drink which can't be improved by the right seasoning". This Autumn his blends can be used to make pickles and preserves and for Christmas, the Dorset Spice Shed's gin and vodka infusers.
After leaving university Richard headed for London where he was a stockbroker for a short spell, worked for an academic publishing company, then became Book Marketing Manager for WHSmith at their head office. From there he set up his own marketing agency in London before finally escaping in 2001 and returning to his childhood home. And that's when the spices pulled at his heartstrings once more, guiding him to where he is now. Richard's passion is infectious, drawing his customers back time and again for more adventurous spicing in their lives.