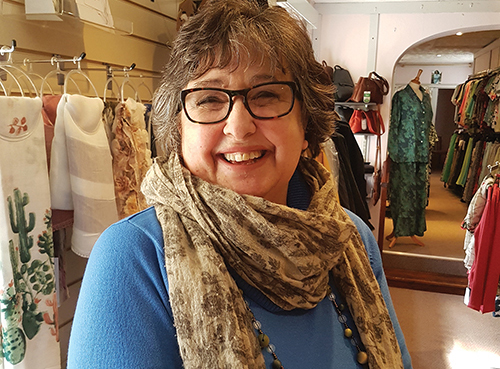 Sue England's father was an apprentice at Smith & Smith Gentlemen's Outfitters in Bridport. When Mr Smith and Mr Smith died within a year of each other Sue's family bought the shop, which she now owns with her sister and mother. Sue's father continued to work in the shop for many years alongside her mother, with Sue helping out on Saturdays. However, after eschewing a career in nursing, Sue now runs the shop on a daily basis, with her team of trusted staff.
Sue's mantra is to always "sell excellent, good quality stock, with a preference for British makes where possible". The established outfitters in West Street is a cornucopia of clothes, cufflinks, socks, boxers shorts, day wear, night wear and hats. The men's section dominates the ground floor, but tardis-like the shop extends up and back to provide a full selection of clothing, hats and underwear for women too.
Many of Sue's customers have been visiting the shop for years and are greeted warmly by name. Those who venture to the back of the shop can find a map showing all international sales, as the website has meant new global custom; men's vests dispatched to Canada and Barbour Jackets to Japan. Sue enjoys sourcing clothes for the shop and regularly visits MODA, a trade show in Birmingham to find new producers.
When not in the shop, Sue spends time with her elderly mother, usually enjoying a weekly cup of tea together at Washingpool Farm Shop. And she bakes. Fruit cakes are her signature dish, various tried and tested recipes she makes from memory now. Sue also loves to knit and crochet, proof of which is her wedding dress which she crocheted 40 years ago. Living in Bothenhampton for 35 years, she and her husband enjoy their lovely house as they do living in Bridport, where Sue was born and bred.