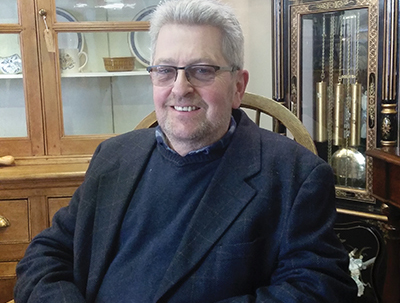 Richard Payne-Withers, owner of The Alleyways Antique Centre in The Art and Vintage Quarter of Bridport, first met his wife, Sam, disguised as a character from the Rocky Horror Picture Show. It was Halloween, she was dressed as a devil, and said yes to a date not knowing what he actually looked like. Two days later, one surmises she was impressed with the dapper figure in a suit with a carnation on his lapel, as 23 years on they are still together. They get on so well they now both run the emporium in St. Michael's Trading Estate, working seven days a week, with only two Sundays off a month.
But as Richard points out, it's fun and not like normal work as they love doing it. Whether at The Alleyways, doing paperwork in the office in North Mills Trading Estate, completing a house clearance or buying from an auction or sales room anywhere in the South, Richard is generally working. He bought The Alleyways in 2011, building the number of traders operating under one roof from 18 to 50. "It's like one big family, we all help each other and have a laugh at the same time. People come here for the shopping experience we offer, along with the friendly service", says Richard.
So successful are the couple at working as a team, they are opening a new venture at the end of April; Bridport Antiques. 3,000 square feet of space located in the old Amsafe Building, on West Street, the new shop is a culmination of six years hard work.
A great socialite, Richard loves his friends and enjoys a pint or two down the Tiger Pub, dabbling in a game of crib on a Tuesday night. And when not squeezing in a bit of time on his allotment, you'll find Richard obsessing about penguins…but that's another story entirely.