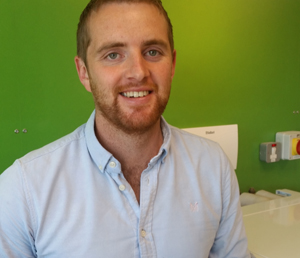 Waking up for cuddles with his baby daughter Pippa, Robin Goodfellow, Director of CHG South West is usually in the office for 7am. Sometimes even, at 6am for the Directors meeting held once a week, and he can also be out working till 9pm at night too. But then, that's what being your own boss is all about, he says. He's proud that at the age of 28 he is Director of a company of 50 people, a company he is passionate about.
Formed in February this year, CHG covers all areas of electrical, plumbing, heating and water services, specialising in renewables; ground source heat pumps, solar energy and the newly available Tesla Home Battery. Robin enjoys Project Managing the electrical jobs, as well as doing some practical with the Tesla Batteries which he fits himself. He loves seeing the job from start to finish, satisfied when customers are happy upon completion.
Growing up on a farm in Netherbury, Robin gained his work ethic from helping out his parents before school, and often after. They supported him at 16 when he decided he didn't want to go down the farming route and instead trained for an electrical apprenticeship in Yeovil. At 19 he bought a ticket to Australia, the start of a journey, working on a 36,000acre arable farm, then New Zealand on a large scale dairy farm, enjoying days out with the sheep shearing gangs. After that Ukraine for the harvest, then Canada, on a young farmers scholarship, based in Nova Scotia.
Now married to Phoebe, with Pippa born in July, Robin makes time to renovate a bungalow in Beaminster, which is almost ready for them to move into. He also plays hockey for West Dorset and has recently taken up golf. Robin also manages to squeeze in the odd board game with Phoebe, often playing on into the evening together.