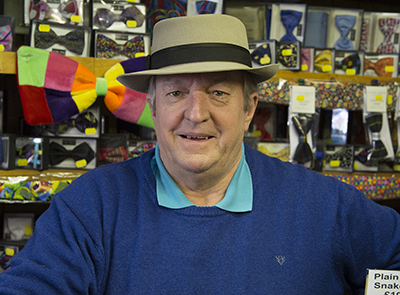 'My love of hats goes back to the days I was a schoolboy in Swaziland', reminisces Mr Roger Snook of T. Snook Hatters & Outfitters in Bridport. 'We had to wear boaters, which taught us how to etiquette. If a Miss or lady teacher passed by we would give her the full doff of our hat, whereas the male teachers got a one fingered salute. We used to paint our hat with egg white and put it in the sun to harden up, also reinforcing the rim with cardboard. All this to make the hat rock hard so we could throw it and try to knock the top off other boaters.'
Claiming to house the largest collection of panama hats in Europe, this traditional hatters and outfitters has been in Bridport since 1896. The shop was originally opened by Roger's grandfather, taken on by his uncle and now, for 30 years Roger Snook has run the emporium on West Street. Before this, when travelling through many countries as an Engineer, Roger would buy hats and send them home to England; setting store for a lifelong fascination.
Mr Snook's customers travel from all over the UK, with the hats all jostling for pride of place in his shop window. New in is a collection of miniature hats; top hats to cloth caps, very popular as collectors items or for dogs and teddies alike.
Clocks are another great love of Roger's. He looked after the running of the Bridport Town Hall Clock for 18 years. It's the only clock in England that chimes 13 times on New Year's Eve… rumour has it Roger and a friend were up overseeing the midnight bells one year and might have had a few sips from the bottle they were carrying. "How many rings was that? Oh well, let's just give it another one to make sure".