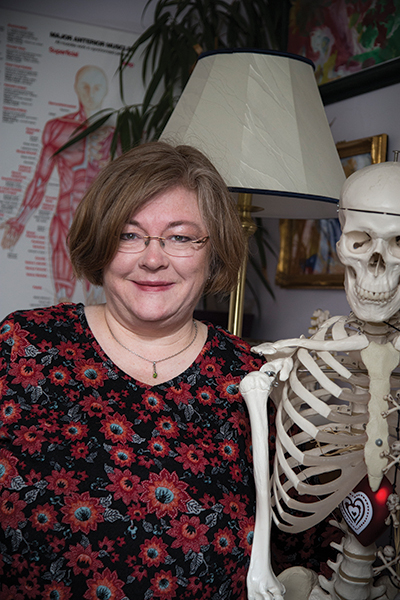 'Osteopaths are like Vintage Cheese and Port, they get better with age', declares Liza Adams, Principle Practitioner at Twist and Shout Osteopathic Health Centre in South Street, Bridport. 'To put it simply, I now feel ownership of the knowledge I have learnt'.  She has been in practice now for 26 years, her career spanning working 'on the field' with an American Football team to volunteer therapist helping 'torture survivors' from the First Gulf War.
When Liza first started out she was often still found treating patients at 10.30pm, or even on a Sunday. Now, she has a better work life balance and has seven osteopaths working together at the Bridport Practice. However, Liza has never seen her vocation as work, she enjoys meeting people and treating them as best she can. She has campaigned hard to get Osteopathy more regulated, working in hospitals and GP surgeries, embracing different disciplines.
With her husband at home, she claims she would not be able to look after her patients to the extent she does without his support over the years, doing all the cooking and looking after their two sons as they grew through school and on to University and beyond. Liza also helps out when she can with stewarding at Bridport Art Centre and for ISCA Ensemble, as her love of meeting and greeting people never wanes, appreciating the music too.
From bone setting to more sensitive, gentler techniques such as Cranial Osteopathy the centre treats everyone from babies to 'Vintage Patients'; one patient Liza treats is a 96 year-old windsurfer. When asked about the name of the practice Liza points out that humour is proven to improve health and the immune system. 'Twist and Shout—a joke and a very good song' she enthuses. And to prove the point, her companion's name in the picture above is Bonaparte.