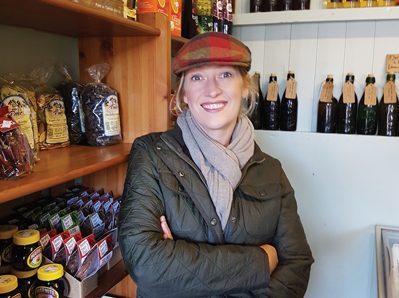 Superglue, baby wipes, multiway phone chargers, strip wax, magnums of champagne, packets of brightly coloured pasta from Italy, coconut cream, every spice combination you could wish for, personally selected red, white and rose wine, locally made mead, original Edwardian bottles filled with flavoured olive oils and vintage shaped bottles housing autumn-tinted contents, homemade on the Manor. The handwritten labels depict deliciously inviting Wild Plum Vodka and Butterscotch Rum to name but two. All this inside a stable block that is now Marshwood Manor Stores, run by Romla Ryan, who lives at the Manor House with her husband, children, and somewhat eclectic pets; two dogs, two cats, a goat and a turkey.
The original idea behind the shop was to provide somewhere that guests staying in the holiday cottages at Marshwood Manor could get provisions they may have forgotten or run out of. A cornucopia of a shop, so compact and well stocked with personally chosen items by Romla, either local, or specifically selected and imported from abroad. In the adjoining stable is a home and gift shop brimming with treasures. Another stable houses logs, buckets and spades, dog bowls and even kites, for fun family adventures.
Romla can often be found perched behind the counter at her laptop. She types away, working on a new piece of writing, now that she has the time again. Once an actress, she moved into screenwriting horror movies when her children were born as it was something she could do from home. When Romla and her husband moved to Marshwood Manor a few years ago they got stuck in with renovating the holiday lets on the estate. Now the Stores are open Romla hopes to also supply locals, and is happy to try to source any specific items they are after. The challenge though, is to find something you need that isn't already on a shelf.