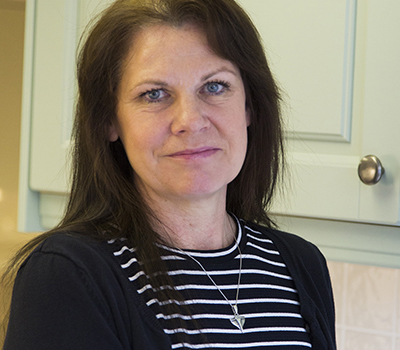 Named after a Bluebell Girl, Shenda Shopland, co-owner of Liberty Kitchens knows her onions. After leaving school, Shenda worked at Jewsons for nine years, training in Kitchen and Bathroom design, going on to specialise in kitchens. Liberty Kitchens, co-owned with Catherine Mason, located in Dreadnought Trading Estate, Bridport opened 15 years ago.
At 9am Shenda opens the shop, puts the heating on and answers the post. She has already done a round trip to Axminster, dropping her daughter off at the train station, returning home to do an hour's cleaning and tidying of the house before hot-footing it to work. The fitters are sent off with their schedule for the day and Shenda does some home visits, where she hand draws the new kitchen plan on site, before entering the measurements on the CAD programme back at the office.
Using their own manufacturers and brand, Shenda claims, "In 15 years we have never replaced one hinge or drawer box. The lives of our kitchens are longer as they are such a quality product. We are aware that we're stepping into someone's life for a period of time when designing and fitting their kitchen". Shenda herself still operates from a 20 year old kitchen at home and although she has never had a new one, she has of course planned it, down to the door knobs…she says she just needs to get round to doing it.
This may not happen any time soon though, considering Shenda is often out on the water in West Bay. As Vice Captain of Bridport Ladies Gig Rowing Club, she trains up to four times a week in the summer, with an occasional 6am start. And in winter she can even be breaking the ice in the harbour in order to get the boats out. Let's hope the kettle's on.