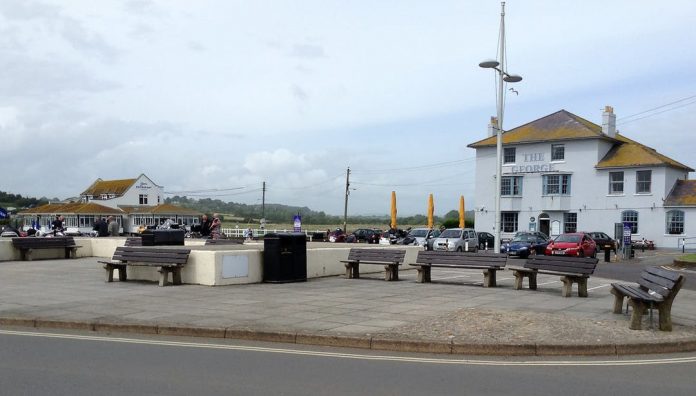 The Environment Agency and West Dorset District Council have partnered up to work on new multi-million-pound sea defences at West Bay.
On Thursday 17 January, West Dorset District Council Planning Committee unanimously approved the proposal to install new sea defences at East Beach and West Beach.
The following is the statement issued by the council on its website:
Why are sea-defence works needed?
The beach defences protect 148 residential properties, 112 commercial properties and caravans at Parkdean Holiday Park. Waves over-topping the Esplanade at West Beach caused significant flooding of properties and utilities in 2014. Each winter, stormy seas damage East Beach. To address this, a more robust defence against flooding and risk of breaching is needed.
How have we come up with the scheme?
West Dorset District Council, the Environment Agency and other key agencies have worked closely together and with the public through several local consultations facilitated by Dorset Coast Forum. We aimed to come up with the best scheme to provide defences for the whole of West Bay.
What is going to be done and when?
West Beach – building of a new, low wall at the back of the Esplanade     FEBRUARY – JUNE 2019
East Beach – installation of a buried solid rock core       APRIL – JUNE 2019
West Beach – construction of a new rock groyne     APRIL – JUNE 2019
West Beach – importing extra beach shingle         MAY – JUNE 2019
Improvements to the River Brit bank along Parkdean Holiday Park have been designed and are included in the planning submission. [It is hoped these improvements will go ahead later, once funding has been agreed between the council and its tenant. These will then take place over the winter period November 2019 – February 2020]
The contractor's main site compound will be on the car park behind East Beach. A secondary compound will be located at West Beach. There will be restricted areas for public access at each beach during construction, and these will be clearly signposted. Beach marshalls will be recruited from the local community to assist with managing public access and maintaining public safety at all times.
Who is paying for it?
£5m of the funding is being provided by central government under the DEFRA Flood Defence Grant-in-Aid. WDDC is providing £3m. £1m has been granted from Local Levy by the Wessex Regional Flood Defence Committee.
What will be the impact for local residents, businesses and visitors?
Major construction will take place starting in February 2019 and substantially completing by July 2019. We recognise the importance of the holiday trade to local businesses. Our contractors will liaise with those directly affected to ensure minimum disruption.
Construction works will not take place during the 6 peak summer weeks from late July through August. Ancillary works, landscaping and site demobilisation will be completed by late October.
Large rocks will be delivered by barges to the beaches in April, and we believe these activities will be of great spectator interest. The rock deliveries will be governed by tide times and we are working on the schedule of this element of the project right now. We will communicate the tide times and what will happen as soon as these are confirmed.
Beach Closures
There will be a two-week period in March/April when both beaches must be closed for safety reasons. Once we know exactly when these dates are [as there are factors that will indicate the precise dates that are as yet unknown] we will communicate them clearly.
Every effort will be taken during construction to minimise disruption, noise and dust. Site notices will be erected displaying contact information if members of the public need to make contact.
Vital works to ensure safety of the community
The team regrets that some inconvenience may be caused to the community and members of the public for this relatively short period of time.  However, the works are vital to ensure the safety of residents and local businesses who are at continued risk from floods and also the continued economic viability of West Bay.
Cllr John Russell, Portfolio Holder for Environmental Protection and Assets, said: "For safe tidal working in the marine environment, it is necessary to carry out these beach works outside the stormy autumn/winter period.
"Inevitably, that means some inconvenience during those seasons when we all want to be 'on the beach'. We understand that and will do everything practically possible to minimise public loss of enjoyment of West Bay's wonderful beaches. We are also aware of local events such as the powerboat racing that we will halt our works for."
Significant investment in West Bay
Cllr Anthony Alford, leader of West Dorset District Council, said: "These flood defences works are part of an exciting multi-million-pound investment into the infrastructure and public realm in West Bay. We have some significant projects taking place.
These include three Coastal Community Funded projects which are part of the Dorset Coastal Connections portfolio: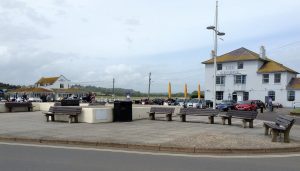 An enhanced seating and community space/welcome hub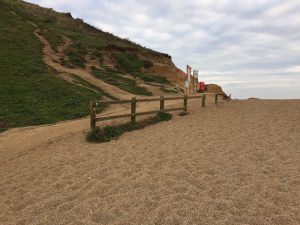 A new boardwalk to allow easier and safer access to the top of the East Beach shingle bank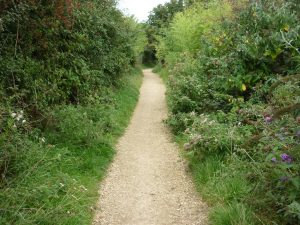 Improved cycle access on the existing bridleway between West Bay and Bothenhampton.
"We also recently invested a considerable sum improving the car parks, too."
Internationally important World Heritage site
West Bay is internationally important for its World Heritage Site (Jurassic Coast), Chesil Beach and other environmental designations. We have taken great care in working closely with the conservation and heritage organisations. These include Natural England, Jurassic Coast Team, Historic England, the Marine Management Organisation as well as Dorset County Council. We've obtained all the necessary permissions to ensure the works are carried out safely and with minimum disruption. The local community, wildlife and the environment are our priority throughout these works.
Exhibition
We are currently planning an exhibition that will showcase all of the above information. We will have engineers and project managers on hand to talk through the works and to answer any questions you may have. We will communicate the dates of this exhibition shortly.