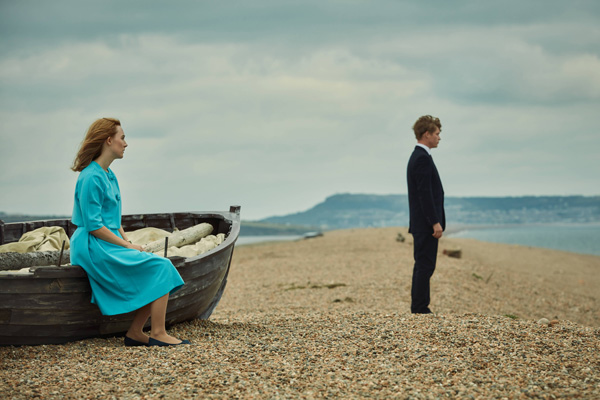 Like the origins of many great initiatives, the exact details of how Bridport's film festival, From Page to Screen started are lost in the mists of time. This year, the team that brings together a popular and diverse selection of films, workshops and talks is celebrating ten years as Britain's only festival of film adaptations, and in April visitors will enjoy twenty-two films shown across multiple venues along with workshops and talks by influential literary and film people such as novelist Ian McEwan and screenwriter Simon Reade.
The festival is now run by a large team of volunteers and an experienced committee ensures its smooth operation, but once upon a time a chat in a pub, a meeting at Bridport Arts Centre and the equivalent of a 'back of a fag packet' proposal led to what is now a hugely popular and successful event that draws enthusiastic audiences from near and far. One couple have visited from Brighton for the last eight years. They enjoy a week of Dorset walks and films at the festival, seeing it as the perfect holiday, and even bring their own cushions!
Bridport based film producer, Nic Jeune remembers being approached by newly arrived director of the Arts Centre, Lindsey Brooks, and chair of the Bridport Film Society, Steven Horner, to talk about putting together a selection of films to help broaden Bridport's already established literary reputation. The Bridport Prize was by this time a highly respected international competition and on the back of the Prize, the Bridport Literary Festival was growing in strength. As Lindsey recalls, 'Steven suggested he curate a series of monthly films which linked to events (dance, theatre, visual art) happening in the building. This made the films the Arts Centre screened relevant to our wider role and these beginnings led to the creation of a festival linked to the Arts Centre's other major success story, the Bridport Prize for literature. Steven's choice of adaptation as a theme was perfect and his ambition for the festival was infectious.' Soon the 'back of a fag packet' idea morphed into a 100-page PowerPoint presentation that still lurks somewhere in the bowels of Steven's computer.
As with all festivals, the dream was to create something that would bring people together 'to make film fun and memorable, rather than sitting in front of your DVD player at home' said Steven. As Nic Jeune recalls, there are many festivals doing this now, 'Secret Cinema, Nomad Screenings and other festivals over the country—but at the beginning it was Tilda Swinton's film festival in Scotland, Ballerina Ballroom Cinema of Dreams that was the inspiration.'
In a ballroom in Nairn, Scotland, she held a miniature film festival, deck chairs, bean bags, fish finger sandwiches and home baking. She said they were aiming to 'reinject some romance into the film festival circuit' which chimed exactly with how Steven and Nic were thinking in another little town at the opposite end of the British Isles; not just 'film for films sake' as Nic says, but the whole experience from food to music to decoration—creating a magical atmosphere.
For From Page to Screen, all these ideas and influences eventually came together along with a collaboration between Bridport's two venues, the Arts Centre and the newly opened Electric Palace. From batting about the kernel of an idea back in 2007, memories, anecdotes and often heated debate about the role and technique of film adaptation generated a buzz in Bridport. Steven recalled the sell-out showing of A Single Man at the Palace as one of his lasting memories of the festival  'I sat watching A Single Man, with my boyfriend next to me, on the huge screen of the Electric Palace with hundreds of Dorset folk, ranging from the most arty to the most 'farmer' types. Watching this story of a gay man reliving his love for his deceased partner.'
For Nic, the lassoing of Lynn Barber to close the festival with a screening of the film of her autobiography, An Education, was his greatest coup; hearing her talking on a BBC breakfast show, he emailed in an invitation and moments later had the satisfaction of hearing the invitation read out live on air. "That sounds lovely" said Lynn Barber "let's talk later". They did talk later and Lynn was secured as a guest at what would go on to be a sell-out screening of this Oscar winning film.
Lindsey echoed Nic's satisfaction at that particular coup. 'We were used to attracting A-listers of the literary world to our tiny town every year to judge the Bridport Prize ("phone them and they will come..")' recalled Lindsey 'but the film industry was another matter. Nic's story of Lyn Barber agreeing instantly to come along, though, showed us all it could be done. Lyn had a whale of a time. Many of the guest speakers choose not to watch their film being screened and Lyn was no exception. Instead she wanted a meal, preferably a curry. I took her to the Taj Mahal on East Street only to find it full. Inevitably, I recognised some friends who invited a delighted Lyn to join their table for perhaps their (and her) most surprising curry night.'
From the outset it was apparent that many, many films were adaptations of existing works. When screenwriter/adapter Olivia Hetreed pulled out her battered and heavily annotated copy of Girl with a Pearl Earring; suddenly the adaptation process slotted into place for Nic Jeune: 'Here was that physical copy of the book that this screenwriter had absorbed, broken down… you could see people going OK… book, person, film, the whole process'. That is why it's a festival with a long life as there is never a final answer to the question 'what makes a good adaptation?'.
As the festival grew, one of it's greatest additions was the concept of a Guest Director, something that many literary and film festivals have embraced. Steven had heard Jonathan Coe speaking about They Were Sisters on Francine Stock's Radio 4 show The Film Programme and invited him to speak at the festival. To Jonathan's disappointment, he'd been unable to attend 'I was very regretful about that because it sounded like a wonderful idea for a festival and I did want to be involved, and I assumed, as you do when you turn something down, that they're never going to ask you again' he said. So, when Steven later got in touch and asked him to guest direct the whole thing, he was more than happy to oblige. 'He was probably the best person we could have got to be the first curator' says Nic. 'He didn't see it as a token post but absolutely threw himself into the whole idea of planning a season and having very ambitious ideas which he said probably wouldn't come off… what was fantastic was that he DID it!'. His ambitious ideas included Kazuo Ishiguro, Bill Forsyth, Nicholas Mosely, and they all came. Since then each year has been built around the curator's choices of films and guests.
This has the bonus that whilst the festival remains about adaptations, it has the different stamp of each year's curator. Jon Ronson, journalist and filmmaker, brought an edgy feel in 2014. Drama director Charles Sturridge came in 2016 and Curtis Brown's Nick Marston sited the importance of From Page to Screen's role after his week in Bridport in 2017. 'My time in Bridport as curator of the From Page to Screen Festival was my highlight of last year' said Nick. 'The range of films we saw, from sixties revivals to potential contemporary classics, was tremendous. We also welcomed some very special guests, such as the screenwriter Hossein Amini for a showing of Drive and actor Dev Patel to introduce Lion. The writer, the script and the source material are the foundation of everything. So I think it's brilliant and important that the From Page to Screen Festival continues to flourish. There is no festival like it and Bridport is its perfect home. All power and credit to those who created it and those who continue to nurture it.'
This year film director Garth Jennings brings his love of animation and comedy to the Festival. Director of The Hitchhiker's Guide to the Galaxy (2005) and writer and director of Son of Rambow (2007) and Sing (2017) Garth is looking forward to his time in Bridport. 'Working with the team to plot an entire program of films has been a real treat' he said 'and I'm really looking forward to watching the films and hearing the people behind them share their secrets. We are not just celebrating some of the finest screen adaptations, but also the sheer delight of the cinema experience.'
The themes of food, music and the magic of cinema have continued over the years. A whole range of local food producers now contribute to the festival. The magic of cinema has spread all around Bridport. The Arts Centre has continued to improve its screening facilities and the Electric Palace now has the screening equipment of a modern cinema. Alternative venues are also a popular addition to the festival, from a sell-out midnight screening of Nosferatu at St Mary's Church, with live music accompaniment in 2016; a screening of The Shining in the then spookily empty Burton Cliff Hotel, (now the Seaside Boarding House), in 2013; a dog friendly Lassie at the tithe barn in Symondsbury and this year to celebrate 200 years of Mary Shelley's book there will be a late-night screening of Young Frankenstein at the Unitarian Chapel.
As the festival established its reputation with the film and literary industries, it was able to offer pre-release screenings to its audience and this year is no exception. The gala opening on Wednesday 11th April will be On Chesil Beach and the novelist Ian McEwan will be attending this and the earlier screening of The Comfort of Strangers.
From Page to Screen, along with the many other initiatives developed over the years in Bridport proves that this small seaside town is a popular venue for the big hitters. Lindsey Brooks recalls moments where the box office felt 'besieged'. Dozens more volunteers were recruited to staff events, hand out delicious food and sell raffle tickets to help balance the books. 'They all turned out to be as enthusiastic about From Page to Screen as we were' said Lindsey. 'Just as well, as we often found ourselves running full tilt down South Street from an Arts Centre event that over-ran to the next screening at the Palace. Has this ever happened at Sundance, Cannes or Venice? Perhaps not, but the small-town story of the festival—the vision and energy of Steven and Nic, the willingness of Bridport Arts Centre to take a leap in the dark, cheered on by enthusiastic local audiences—is the main reason it's now ten years old and still growing.'