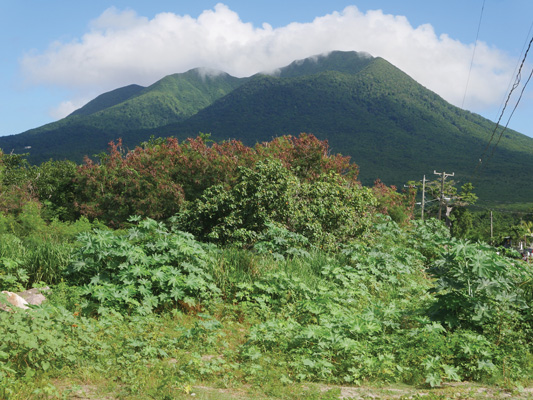 Margery Hookings finds herself in the Caribbean where one of the Monmouth Rebels was transported after the Battle of Sedgemoor in 1685. Azariah Pinney, who was meant to have been hanged for his part in the West Country rebellion, was instead shipped to the island of Nevis, where he made his fortune.
I'm standing on the palm-fringed Pinney's Beach on the island of Nevis, far away from the West Country, in the Caribbean.
It's not hard to imagine how it might have looked more than three hundred years ago when Azariah Pinney first set foot here. His father, John was, at one time, the vicar of Broadwindsor, Dorset. Azariah had been transported to the West Indies in 1685 aboard the ketch, The Rose Pink, for his part in the Monmouth Rebellion.
The smaller sister island of St Kitts, Nevis is a green and pleasant land, dominated by a high peak, which is often covered by cloud. Today, it's an island of high-end tourism. No over-development here, thank goodness.
As well as being where Pinney made his home and subsequent family fortune, it's also the birthplace and childhood home of Alexander Hamilton, one of the founding fathers of the United States, whose story forms the basis of the hit rap-musical, Hamilton. Nevis is also where Horatio Nelson was stationed as young sea captain and where he met and married Frances Nisbet, the young widow of a plantation owner.
There are two museums to both Hamilton and Nelson on Nevis as well as a fascinating museum in St Kitts, which focuses largely on the slave trade. Like so much of the Caribbean, the fortunes of Nevis and St Kitts were made on the back of this cruel part of our history.
One of the most fascinating Monmouth Rebellion stories is that of Azariah Pinney, who is described by the late historian W. McD. Wigfield, in his roll call of rebels, as a young, married yeoman from Axminster.
Azariah's father, the Rev John Pinney, succeeded Thomas Fuller, the church historian and author of The Worthies of England, as Vicar of Broadwindsor. Pinney was ejected from his living at the time of the Restoration and preached in Ireland and at his own house in Bettiscombe and in the district, living the life of a gentleman farmer. His family had a thriving lacemaking business.
In June 1685, Azariah, like so many non-conformists in this part of the world, was caught up in the Duke of Monmouth's rebellion, which saw 300 rebels and 200 Royalists die on the battlefield at Sedgemoor, Somerset, and a further 1,000 rebels killed as they fled. Some 320 rebels were executed and 750 were transported to the West Indies as bonded slaves.
According to Wigfield in his extensive research for the roll call of men listed in his book, The Monmouth Rebels, Azariah reached London after Sedgemoor but was arrested and sent to Dorchester for trial, at first to be hanged at Bridport but then transported to the West Indies after his sister, Hester, paid a ransom of £65.
His family's anguish at his fate up until that point is clear from The Letters of John Pinney 1679-1699, (edited by Geoffrey F Nuttall).
In a letter dated 26 July 1685, to his daughter, Rachel, John Pinney says: "This fortnight I have languished with sorrow, weakness, griefe, feare, yet my knees shake, my eyes faile, my sleep gon.
"But for poor Az. My eyes have not bin void of teares night & day these fortnight for him: nor have I ceased to beg of God night nor day yet he may finde mercy."
Azariah did indeed find mercy. His brother, Nathaniel, paid his £5 passage to Nevis and provided him with clothes, 'equipment' and a Bible to set him up as a factor. In May 1687 Azariah was pardoned.
He went on to become a Lieutenant in the Defence Force on Nevis, a Member of the Assembly and Treasurer of the Island.
The island prospered through its sugar plantations and Azariah, who had initially been supported by his family, acquired an estate of his own. 'By shrewd business ability, as commission merchant and agent for absentee planters, he accumulated a small fortune.' (A West-India Fortune by Richard Pares).
One's admiration for Pinney's tenacity and recovery from his formerly dire situation back in England is tempered by the fact that his fortune was achieved at the expense of enslaved Africans.
According to discoveringbristol.org.uk/slavery, "Pinney may appear to have treated his slaves less brutally than other plantation owners but his primary aim was to grow and sell sugar at a competitive price.
"Pinney wrote that managers 'must not use severity, for I will not suffer any human being, committed by providence to my care, to be treated with cruelty'.
Azariah visited England twice and died in London in 1720.
His son, John, died a year later and the estate passed to Azariah's grandson, John Frederick, who grew up in England and spent only a few years on Nevis. When he died in 1762, his Nevis property was passed to John Pretor, a distant cousin, who became John Pinney as a condition of the inheritance.
Today, The Pinney Papers are in the library of the University of Bristol. They are a valuable resource to historians and represent one of the most comprehensive family collections in the country. For more information, follow this link: http://www.bris.ac.uk/library/special-collections/strengths/pinney/
John Pretor Pinney's house in Bristol is now the Georgian House Museum, an 18th century, six-storey townhouse just off Park Street. It is a step back in time in which you can imagine what life was like in this affluent area of the city in the 18th century. For more information, follow this link: https://visitbristol.co.uk/things-to-do/the-georgian-house-museum-p26101