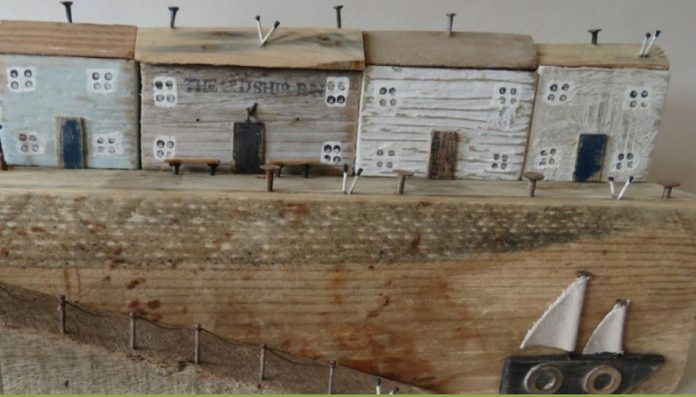 In Nature, we never see anything isolated, but everything in connection with something else which is before it, beside it, under it and over it.' Goethe
So said the German writer Goethe who was amongst many other things, a botanist and an artist. It is this concept that four Dorset artists illustrate to you in a lively, interactive and thoughtful exhibition at Bridport Arts Centre.
From Saturday 12th October the Arts Centre will be transformed into an area of natural beauty. Botanical artist Sally Pinhey's watercolours painstakingly craft the glory and beauty of Dorset's nature and landscape in dazzling detail. Dawn Sprake charms the visitor with her humorous and delightfully observed village scenes. Inspired by Dorset coast villages, Dawn relies on the waves and storms to provide her materials, foraging and recycling anything the elements throw up. Painter Hilary Warren's loose and natural style celebrates all things Dorset, from the wildflowers in the hedgerows to our famous Jubilee clock in Weymouth.
Finally, sculptor Cece Mills exaggerates the seed pods she finds on her rambles around Dorset, creating larger than life sculptural forms.
With nature conservation high on the global agenda, the exhibition highlights the key points of concern – biodiversity and every living thing in our ecosystem is under threat from global warming, pollution and deforestation. By showing you the wonder and interconnectedness of the nature of our county the artists hope to inspire people to think carefully how they live, and actively support conservation.
The artists also want their show to appeal to the younger generation and to this end have organised, quizzes and challenges for children, and an interactive corner where they can engage in activities while parents enjoy the exhibition.
The show runs from October 12th to Nov 2nd free entrance.