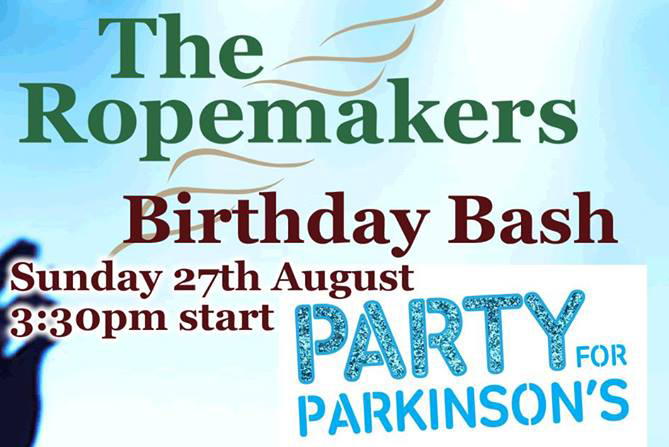 John and Geraldine from The Ropemakers in Bridport will be hosting their now annual Birthday Bash / Party for Parkinson's on Sunday 27th August with music starting at around 3:30pm.
There will be various bands including DJ Santa, Elfentale, Rosie Smith, Garry Smith Trio, Tori Reed and the Tall Travelling Troubadours and headlining will be Bridport's favourite party band, Shelby's Elbows.
All proceeds will be given to Parkinson's UK, and there will be a barbecue, face painting and raffle.
This event started three years ago when the Ropemakers celebrated its 25th year of being the Ropemakers. It has proven to be a really successful party raising over £2,000 on the day.
John was diagnosed with emphysema five years ago, and three years ago was also diagnosed with Parkinson's disease. Although he is determined that this will not affect the running of the pub although some things will inevitably change. He sees this as an opportunity to raise money to help in the research to find out more about the disease and towards eventually finding a cure.
Parkinson's affects around 127,000 people in the UK and on average every hour, someone is told that they have Parkinson's. John and Geraldine take a commitment to raising money for this charity as well as others during the year.
If you are willing to support their efforts, please either pop into the pub and support the event on the day or just make a donation.
Paul Jackson-Clark, Director of Fundraising at Parkinson's UK, said: "Taking part in a UK Challenge like a run or a cycle, is a fantastic and rewarding way to raise vital funds to support our work.
"As the UK's Parkinson's support and research charity we're leading the work to find a cure, and we're closer than ever. But our work is dependent on donations.
"We are incredibly grateful to John and Geraldine, for their support. I hope they will inspire others to take part in our events throughout the year."