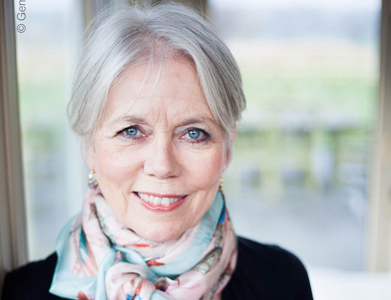 Royal insider Penny Junor has stepped into the breach after writer Bryony Gordon pulled out of this year's Bridport Literary Festival on the advice of her doctors.
Columnist and writer Bryony had been due to talk about her new book, Eat, Drink, Run, the follow-up to her mental health memoir, Mad Girl. But she is suffering from exhaustion and has had to clear her diary.
Festival director Tanya Bruce-Lockhart said: "We are delighted now to welcome Royal insider Penny Junor, journalist and broadcaster, who will be talking about her latest book, All The Queen's Corgis, an affectionate and entertaining book about the dogs that have been bred, owned by and given to the Queen throughout her life.
"In conversation with Susannah Simons, there will be much, much more to talk about apart from the corgis!"
The event is at The Electric Palace, Bridport, on Saturday 10 November at 12 noon (and not 11.30am when the Bryony Gordon event was due to start). For tickets, contact Bridport Tourist Information Centre on 01308 424901.
Penny Junor was at school with Princess Anne and has written best selling biographies of the Prince of Wales, Diana, Princess of Wales, her two sons, Prince William and Prince Harry and latterly Camilla, Duchess of Cornwall. She has also written biographies of Sir John Major and Sir Cliff Richard.
She is married to James Leith, the brother of The Great British Bake Off judge Prue Leith, who is appearing at Bridport Literary Festival at the Electric Palace on Saturday 10 November at 2.30pm.
For every dog lover and Royal watcher, Penny's affectionate and entertaining new book, which is being published on 1 November, looks at the dogs that have been bred, owned by and given to the Queen throughout her life – at their personalities, the relationship she has had with them – and at the not insignificant part they have played in her role as monarch.
Junor explains why corgis have long been Her Majesty's favourite dogs. She talks about and how the dorgis, (the cross dachshunds/corgis) first came to be – the result of a happy accident. And she writes about the gundogs – the Labradors and spaniels kennelled at Sandringham – that have played an equally important part in her life over the years.
This very intimate book looks at the Sovereign at her most informal, doing what she loves best, amongst people who share a common interest.  In the shooting world she is recognised as one of the top breeders of gundogs in the country, also as an expert handler, and a generous host to field trials.  The pet dogs are her constant companions, travelling with her by air, road and rail, from one royal residence to another.