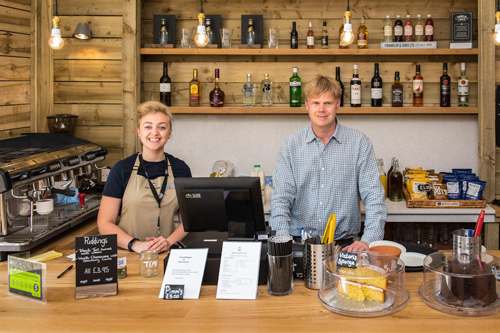 WEST Dorset has a new eating and meeting space with the reopening of the Sawmill Café and Coach House at Mapperton House near Beaminster.
And as befits the family home of the Earl and Countess of Sandwich, Lord Sandwich himself has created a range of sandwiches based on classic British favourites, including roast beef with watercress and horseradish sauce, as a tribute to what is often acknowledged to be the original sandwich invented by his ancestor.
The Sawmill Café and the adjoining Coach House venue have been transformed with the aid of a £140,000 LEADER grant from the Southern Dorset Local Action Group, which aims to support rural businesses and promote tourism away from coastal areas.
LEADER is part of the Rural Development Programme for England, where the local community decides where grants would have the most benefit. Priority is given to increasing the length of the tourist season and creating full-time, year-round employment.
As well as catering for visitors to Mapperton House and Gardens, it is hoped that the Sawmill Café will attract residents too, providing good value local food and – when combined with the Coach House – a space for groups and business meetings.
The Coach House is a new multi-purpose events space with seating for up to 120 or 200 standing. It is equipped with a full AV system, controllable lighting and is heated by a new biomass boiler. Available for weddings, parties and corporate hire, a calendar of events is being developed including a gig with local band the Skimmity Hitchers on 15 September.
Viscount Hinchingbrooke says: "After six months of renovations, we have opened the doors of our new Sawmill Café and Coach House. We really hope that this becomes a popular spot for local lunches and teas, whether or not you are visiting the house and gardens.  Come and enjoy a pot of tea and a scone, a family get-together or a relaxed glass of wine sitting outside in the courtyard.
"We are also looking forward to welcoming visitors to our special events, which will include gigs, concerts and other entertainment."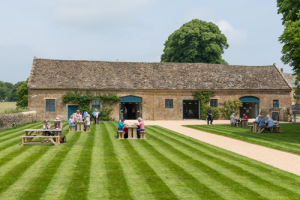 Café Manager Laura Brown, previously of The Club House in West Bexington, says: "I am super excited to be leading the team here. The Café is being run in-house for the first time and it is a wonderful opportunity to invite locals and visitors to this beautiful and unique setting.
"Our menu will be fresh, rustic and affordable, featuring local produce, with ploughman's lunches, a soup of the day, fish, daily specials and, of course, Dorset cream teas!"
The Sawmill Café is open from 11am to 5pm, Sundays to Thursdays.
The Coach House is available for weddings and private hire.  Please call 01308 862645 or go to mapperton.com.
Mapperton House is open from 1 April until 31 October 2018 from 12pm to 4pm, Sundays to Thursdays. The House can be visited by guided tour only. More information at mapperton.com