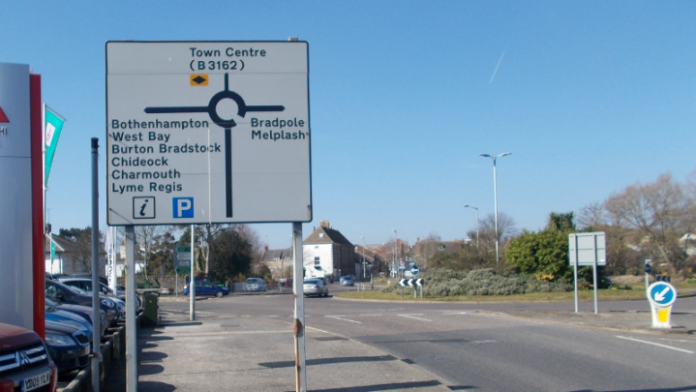 A busy roundabout on the A35 through Bridport is being refurbished throughout the spring.
Starting on Monday 1 April, Dorset Highways will be renovating East Road Roundabout to improve pedestrian facilities and bring the roundabout up to modern standards of lighting and kerbing.
The 13 weeks of work is being funded by Highways England, which is responsible for the A35 trunk road.
Matthew Piles, service director for environment, infrastructure and economy, said: "We've worked closely with Highways England on the design of the improvements, which will further contribute to the cycle facilities in Bridport.
"Developing the town's cycle network will give residents more travel choice. By providing safe routes and crossings people will be able to leave their cars at home and avoid traffic jams – especially in the summer – for trips into town.
"Cycle holidays are a growing industry and, with the Jurassic Coast on our doorstep, we should continue to encourage visitors and residents to make car-free journeys while exploring our fantastic county."
Work at the roundabout includes:
removing 'crazy' paving between Sea Road North and East Road and resurfacing with bitumen to widen the area for pedestrians/cyclists
installing new toucan crossing on A35 Sea Road South
refurbishing uncontrolled pedestrian crossing on Sea Road North, increasing the splitter island size and installing new kerbs and tactile paving
refurbishing uncontrolled pedestrian crossing on A35 East Road, installing new kerbs and tactile paving
installing new lighting around roundabout, including moving lighting to back of the footway/cycleway and installing new ducting for power supply
replacing railings on A35 Sea Road South with higher, cycle-friendly railings
renewing signs and installing new cycleway signs
clearing roundabout vegetation and seeding with wildflowers
resurfacing roundabout, approaches and footways
Although traffic management will be minimal, drivers should allow extra time for their journeys through the roundabout as approach lanes will be reduced down to one lane, slowing the progress of traffic through the roundabout.
During the first phase of work, from 1 April to 14 April, the approach lanes to the roundabout on the B3162 East Road and A35 East Road will be reduced to one lane.
The approaches to the roundabout on A3066 Sea Road North and A35 Sea Road South will be reduced to one lane from 18 April to 8 May.
To minimise disruption, night work will be taking place when more road space is needed.
B3162 East Road will be closed for two nights – on Monday 15 April and Tuesday 16 April –  from 7pm to 7am while ducting and kerbing work is carried out.
A3066 Sea Road North will be closed for three nights – on Wednesday 17, Thursday 18 and Tuesday 23 April – from 7pm to 7am.
Further night time road closures will be needed on the A35 during May to install the toucan crossing and in June to carry out any surfacing.
Diversion routes will be signed during the night time road closures. No work will take place over the Easter and May Bank Holidays.