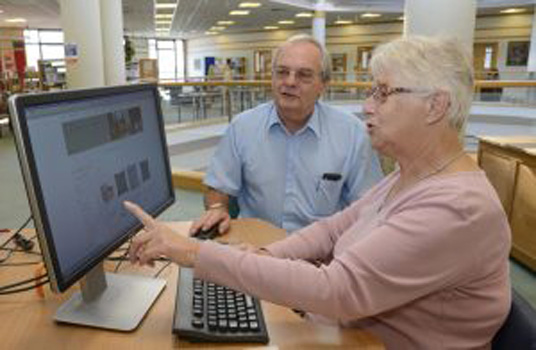 If you have been gifted a computer or gadget over Christmas and do not know anyone with the time, knowledge or patience to teach you, then help is at hand.
There are over 50 Digital Champions volunteering in Dorset libraries to help people with computers, tablets, phones and more. Most have gained experience from their professional careers.
The programme has improved the skills of 80 new learners per month and they are beginning to tell of their experiences, encouraging others to attend.
It is estimated that 150,000 people in Dorset lack basic digital skills. The Superfast Dorset team want to close the gap between those frequently online and those without basic knowledge.
Not everybody has access or the desire to use computers, but attending a session may spark an interest. Many learners have bought a tablet or similar, because of the programme.
Carol and Allan Lander in Swanage, Dorset, were helped by Simon Parvin, Digital Champion based in Swanage. They attended as a couple at the library. Carol said: "Simon was very patient and responded to my needs. He explained things fully,"
"My friend recently bought a new smartphone, I told her to go and see Simon. We were both impressed with his patience. It was incredible. Before, I could get as far as putting the power plug in and now I no longer fear computers crashing in front of me."
Allan had some knowledge of computers. He wanted to know about PayPal specifically, an online payments system. It supports online money transfers and serves as an electronic alternative to cheques.
Digital Champion Simon said: "So much in life now depends on using computers, I am pleased to be able to help people to get going, and to solve their many and varied problems. It is a vital service and good to see people gain experience and confidence with their computing skills."
People without a device can learn free of charge on the library facilities. The sessions are held in a friendly environment and you go at your own pace.
Some Dorset residents say they feel excluded if they are offline and that learning with a Digital Champion boosts their confidence and helps them stay safe and independent.
Andrew Parry, Dorset County Council cabinet member for economic growth, education, learning and skills, said: "It is fantastic that we have so many volunteers keen to share their knowledge of digital technology. Many services, including those of Dorset County Council, are moving online and people without access are at risk of feeling left behind. Learning these skills can save you time and money and we want everyone to be included if they choose to"
Thanks to the Superfast Dorset team it is easy to find your nearest volunteer. Call Dorset's Digital Champion helpline on 01305 221048 and they will answer questions about the support available. All their help is free.
Alternatively, you can look at sessions on the adult care directory: https://www.dorsetforyou.gov.uk/computer-help-directory