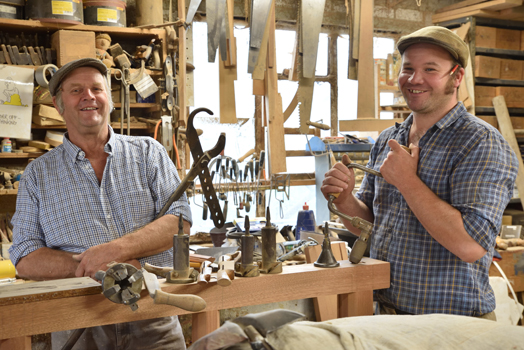 The rural craft competition is now in its 7th year.  It was established by Mrs Elizabeth Gale. Past Society Secretary and Society Chairman, in memory of her late husband, Master Thatcher, Guy Gale.  The competition is open to craftsmen and women living within a twelve-mile radius of Melplash Village Church who derive their livelihood or a greater part of it from their craft.
This year there were 9 entries and the judges were Mr Richard Wilson (2018 Rural Craft winner and Mrs Jackie Norman.  The Society steward was Mr Stuart Gay.
1st Place                       Mr Russell Randall, Litton Cheney
Wheelwright
2nd Place                      Mr Robert Fielding, Langton Herring
Blacksmith
3rd Place                      Mr Russell Woodham, Hampton
Hedgelayer
4th Place                      Mrs Joanne Sadler, Misterton
Willow Sculptor
A wheelwright is a craftsman who makes and/or repairs wooden wheels. Interestingly, the craft is amongst the oldest known to man with the origins of the wheel dating back to prehistoric times.  A wooden wheel today generally consists of three main parts, the hub at the centre of the wheel, the spokes radiating out from the centre and the rims around the outside.  Generally, the wheel will be bound by a steel or an iron tyre depending on its historical period and purpose.
Russell has been involved in the trade for some 40 years.  He started as an apprentice joiner and then joined the family tradition and learnt the skill of wheelwright from his father, as his father did before him.   His son, Christopher is the 6th generation in the family to take up the skill.   Russell makes and repairs wooden wheels for horse-drawn vehicles with many customers from the South of England. His reputation has been built purely by word of mouth, he has never advertised, and social media is something he rather not know about.
"'I am very pleased and proud to have won this year's craft competition.  Not only does it recognise my work as a wheelwright but also celebrates our family's long association with the craft" said Russell.
Russell will be receiving the Guy Gale Perpetual Trophy at the Melplash Show on 22 August.