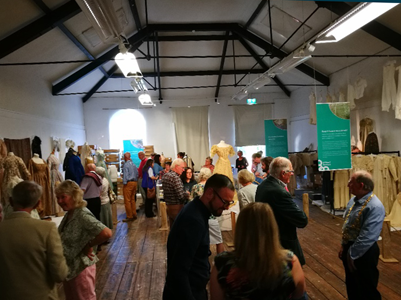 On Friday 22 June guests were invited to a special preview of 'Bridport Undressed'- an exhibition of textiles from Bridport Museum's Collection in the Allsopp Gallery at Bridport Arts Centre.
The beautiful and immersive exhibition gives a unique glimpse behind the scenes- how does the Museum care for 50,000 objects it has in its stores?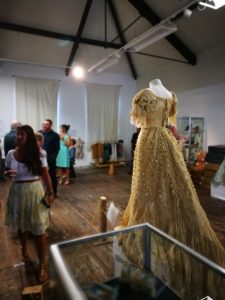 Curated by volunteers, this exhibition focusses on the Museum's fascinating textile collection: from a painted silk dress to Dorset smocks; pantomime dame costumes to frilly bloomers- what are the challenges faced in preserving these items for future generations?
Museum Director Emily Hicks said, 'we are really to be collaborating with Bridport Arts Centre for this exhibition- we think everyone will enjoy getting up close and personal with our costume collection. There is something for everyone- bloomers to blouses, smocks to suits… you might even get a chance to dress up and take the obligatory selfie!'
Curtis Fulcher is the new Director of Bridport Arts Centre, and said: "It is great for the Arts Centre to work with the Museum on this unique, colourful and brilliant exhibition. Staff and volunteers have worked hard to create a really informative look into some of the Museum's collection that is normally stored away and can't be seen. As the new Director, I look forward to working with the Museum more in the future!"
The exhibition runs from Saturday 23 June until Wednesday 18 July. Entry is free, with donations extremely welcome to support the work of both organisations.
For more information visit www.bridportmuseum.co.uk
For Bridport Arts Centre visit their website, https://www.bridport-arts.com/