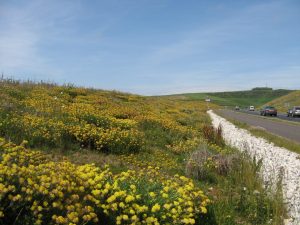 A combination of warm and wet weather has resulted in the green verges and hedgerows of Dorset becoming lush and luxuriant.
Dorset County Council manages verge cutting throughout the county, working with local councils to maintain our roads' edges.
The amount of cutting depends upon the location. In urban areas, the highway grass verges are cut six times a year. Mowing usually starts in mid-March and continues cyclically every five or six weeks depending on the weather and ground conditions.
Rural highway grass verges are currently cut twice a year. But trials have taken place to reduce the number of cuts, help conserve wildflowers and improve the biodiversity of our rural verges.
The aim of these trials was to find new ways of managing the verges to produce cost savings. The trials involved different methods of management to reduce the soil fertility within the verge itself and decrease grass growth. To achieve this, the council stripped topsoil to expose low fertility subsoil or mineral rock; harvested 'mini bales"'from the roadside verges where possible; monitored subsequent growth to determine success, future maintenance needs, biodiversity enhancement and public perception; created wildflower-rich verges.
The exposed subsoil has a lower fertility compared to the topsoil and will require little maintenance once initial weed growth is suppressed. Removing cuttings rather than allowing them to rot will reduce fertility and cutting frequency. The verges where bare mineral rock is exposed may require no annual cutting for up to 10 years. Those verges which have been harvested may only need one cut and collect after a few years.
Both types of trial area can develop into wildflower-rich meadows which are attractive and help provide a valuable source of nectar for bees, butterflies and other pollinating insects.
Cllr Daryl Turner, the council's cabinet member for the natural and built environment, said: "If we can encourage wildflower-rich verges alongside the almost 5,000 miles of our rural roads it will have a fantastic effect on pollinating insects which are vital for our agriculture."
British conservation charity Plantlife recently reported that there has been a 20 per cent drop in diversity of wildflowers puts bees at risk as plant 'marauders' take over.
Dr Trevor Dines, Plantlife botanical specialist, said: "Our once colourful and botanically diverse road verges are becoming mean, green thickets where only thuggish species can thrive and more delicate flowers are being driven to the brink of extinction."
For more details on verge cutting visit dorsetforyou.gov.uk and search for 'verge cutting'.