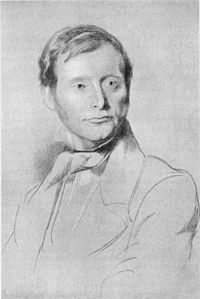 In the 19th century Bradpole could reasonably be called a "sleepy Dorset village", but now it is virtually connected to Bridport by ribbon development.
William Edward Forster was born in Bradpole in 1818, the only child of William and Anna Forster, both Quakers. Their house now carries their name as does the small lane where it is situated. His father was known as "Dr", but this is believed to have been a courtesy title. He was frequently absent, travelling to America and Europe as a travelling minister concerned with relief from poverty and the abolition of slavery. When at home they all attended the Quaker Meeting in South Street, Bridport. "Dr" Forster was the first President of the Bridport Mechanics Institute in 1830. It was shortly to become The Literary and Scientific Institute, which is now in the process of renovation. The building had been provided by the local MP, Henry Warburton, its first patron. He laid its foundation stone in 1832.
Anna Forster is said to have been beautiful and vivacious and before marriage was on friendly terms with the Royal Family during their frequent visits to Weymouth. Her brother Sir Thomas F. Buxton was Member of Parliament for Weymouth for 19 years and often visited the family in Bradpole. His wife was a sister-in-law of Elizabeth Fry and Anna visited the prison with her. Anna also travelled to Ireland to preach, so young William had a nurse, Maria.
As a child, young William had a part-time tutor, the Rev Thomas Taylor and was an attentive scholar, with his parents' views on the world. Sometimes described as sober, he was also light-hearted at times. He was very tall, and his "party piece" when he rode his pony was to put his feet to the ground and stand, allowing the animal to walk on. The mother of the artist Francis Newbery, remembers him as a "long-legged lanky lad". The Forsters had a Newfoundland dog which collected their mail from Bridport in a basket tied to his collar, bearing the inscription "Stop me not, but let me jog\ for I am Dr Forster's dog". At the age of 13 in 1831 William Edward was sent away to school in Bristol for just over a year. It was run by Joel Lean, another member of the Society of Friends (Quakers). In 1832 he moved to a school in Tottenham, Grove House. Meantime, his parents left Bradpole to live in Norfolk in 1837. So ended their time in Dorset.
William was at first keen to study law with a view to becoming a parliamentarian, inspired by his uncle. However, his father vetoed this, insisting on a career in business and so William worked for a short time in Norwich. He travelled to Darlington to visit friends and in 1838 he started work in a woollen mill owned by the Pease family, who were Quakers. At 23 he moved to Bradford to join the firm of T S Fisons and within a year in 1842 he and William Fison took over a disused cotton mill and set up a wool business. In 1847 he went with his father to Connemara, Ireland to distribute food, clothing and money as a failure of the potato crop had produced famine. This visit affected him considerably and influenced his future career.
In 1850 William married Jane Arnold, daughter of Dr Arnold the noted headmaster of Rugby School. Since he was marrying an Anglican, known to Quakers as "marrying out", he presumably became a member of the established Church, which would have facilitated his later entry into parliament. By this time he had given up the Quaker form of dress, but continued with Quaker form of speech, always addressing his wife as "thou". Jane's brother was Matthew Arnold, the writer and poet.
Forster became Liberal MP for Bradford in 1861 and became Under Secretary for the Colonies in 1865. In 1868 Gladstone was again Prime Minister and made Forster Vice President of the Privy Council, which administered grants to schools. William was tasked with designing "a national system of education" at a time when estimates suggested that one and a half million children did not attend school. Many of them were working up to 11 hours daily in factories. However many people were against any change. The Church of England did not want their church schools changed and some dissenting religions, including Quakers, were also opposed to change. Some thought it would be wrong to educate the labouring classes! Forster's 1870 Elementary Education Act was a compromise, with elementary education still not compulsory, but with local school boards elected by ratepayers including women. He has been called "Father of Elementary Education".
In 1880 Forster became Chief Secretary for Ireland, a dangerous position, but when violence threatened he ordered the English soldiers to load with buckshot which is not as lethal as bullets, leading to the nickname of "Buckshot Forster". He had attempted to provide compensation for victims of evictions, but the Bill was rejected by the House of Lords. Parnell and the leaders of the revolt in Ireland were imprisoned, but when the majority of Gladstone's cabinet voted in 1882 for their release, Forster resigned.
Forster died in 1886 and is buried at Burley-in-Wharfdale.
Three years later his birthplace, Bradpole, commemorated him by building a memorial hall, the William Forster Institute, later to become the village hall, used for many social functions. My wife and I were pleased to celebrate our Golden Wedding there!
I have relied on two references, A Fine Meeting There is There by Suzanne Finch and This Good Work by Fiona Taplin for much of this article.