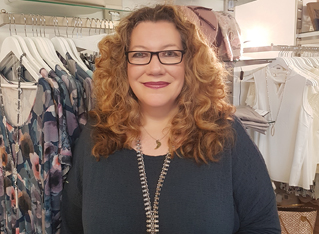 Inspiration, aspiration and hard work combined has helped to produce a local clothes shop that has just been awarded Best UK Online Boutique. No small feat for Penny Callaghan, owner of Colmers Hill Fashion, located in Symondsbury's Manor Yard. It is a gem of a place that stocks ladies fashion where customers are looked after by Penny, who has an eye for detail and what suits.
For 12 years Penny ran The Terrace in Lyme Regis, a café and clothing shop combined. It was a complete change for her from the London based PR job she had previously, but one that she threw herself into completely, making a name for herself in the seaside town. Realising that she had had enough of the whirlwind days of running the café and shop, and that she found the clothing and accessory side of the business more favourable, Penny looked to do something else.
Sitting in Manor Yard one morning with a coffee a couple of years ago, appreciating the wonderful setting, it occurred to her it would be a lovely place for a fashion boutique. It turns out she was right. Visitors can park easily, visit the café, have a beauty treatment if they wish, browse the local shops and also leisurely look for their next outfit with ease. Penny now has more time to build up personal relationships with her customers and help them find exactly what they need. There have been more than a few relieved 'Mothers of the Bride' who have relied on Penny to find their perfect outfit.
And when not working on the back end of the shop; paperwork, website and orders, Penny enjoys eating out and entertaining at home. Never phased, she can rustle up a dinner party, even when she's forgotten she's got one that evening. Turns out she made lamb ribs with black garlic sticky sauce. Sounds like she got that right too.